Version 1.8 released!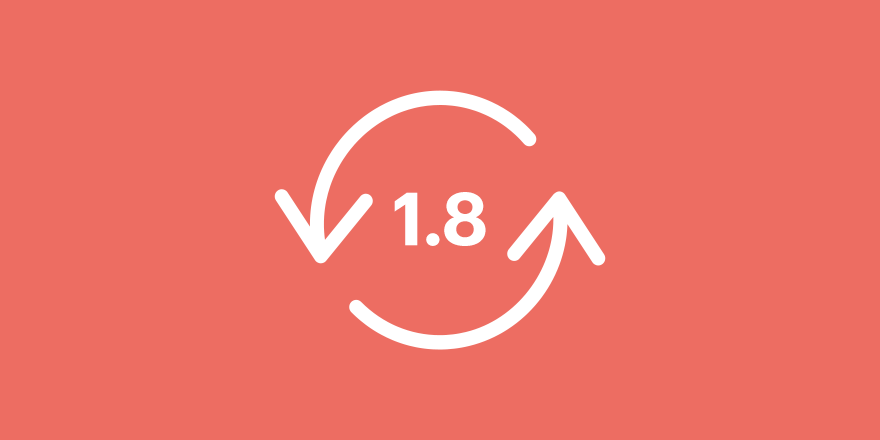 Today we're super excited to announce the release of version 1.8 of AffiliateWP. This update has been in development for almost 6 months and includes a bunch of new features, plus several improvements.
Check out some of the updates below!
Add affiliate account when registering new users
To make it incredibly easy for admins to add affiliate accounts when registering new users on their site, we've added a simple checkbox on the Add New User screen called Add as Affiliate. You can instantly add new users as affiliates, plus choose to skip sending them the "Affiliate Application Accepted" email with the Disable Affiliate Email option.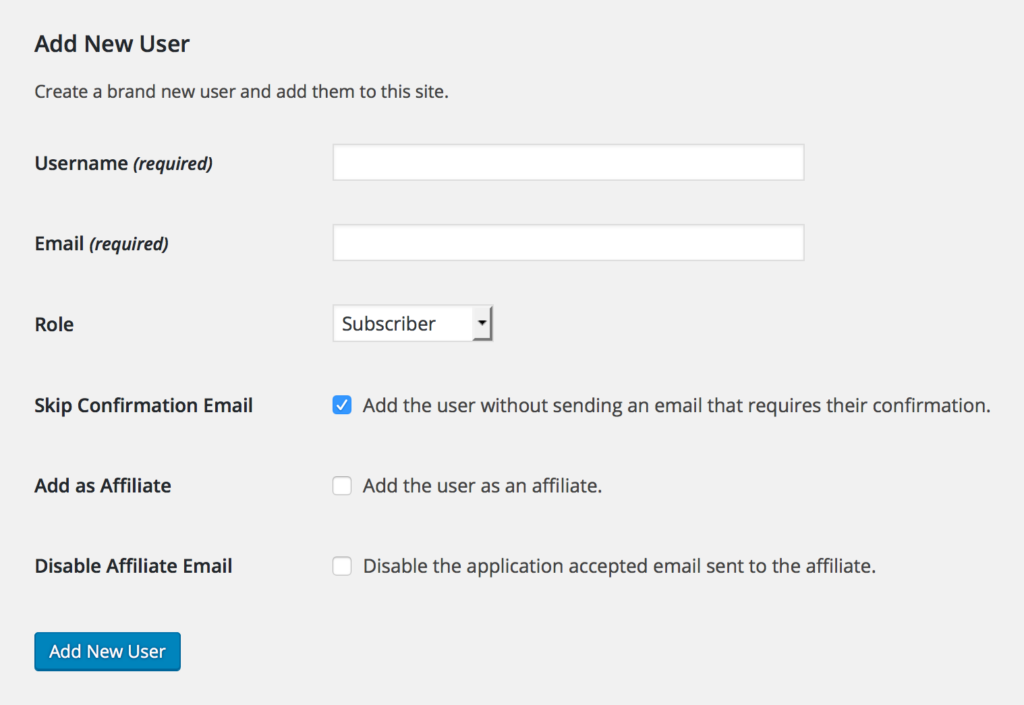 Easier affiliate management
We've made several improvements to the information Admins see about their affiliates, and how affiliates are managed within the WordPress admin:
Affiliate usernames are now displayed in the Affiliates → Affiliates screen
The affiliate's registration date and name are now displayed in the Edit Affiliate screen
Plus, admins can search by the affiliate's username in the Affiliates → Affiliates screen
Create an affiliate account for an existing user from within the Edit User screen. Version 1.8 of AffiliateWP adds a new section at the bottom of the Edit User screen in the admin with one-click affiliate account setup for existing users. When an affiliate account has been created for that user, you'll then see two options in the Edit User screen to either view that affiliate's Reports, or to be taken to the Edit Affiliate screen.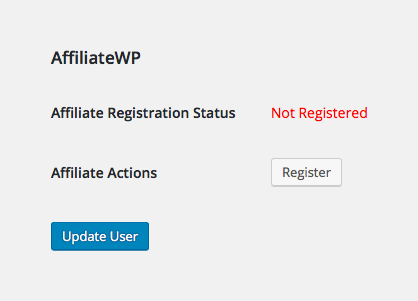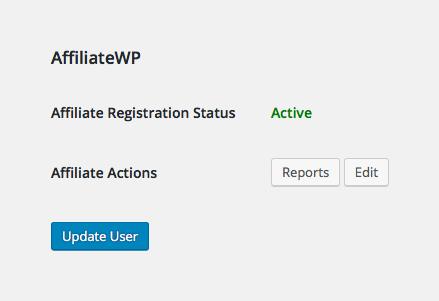 Set Paid Memberships Pro per-level referral rates
If you're using Paid Memberships Pro with AffiliateWP, you'll be pleased to know admins can now set a per-membership level referral rate. This per-membership level referral rate can be set in the membership level Edit screen within Paid Memberships Pro.
Additional Updates
Affiliate coupon tracking for Jigoshop
Affiliate coupon tracking is now available for Jigoshop. When creating a new coupon, an affiliate can be attributed to that coupon. The affiliate can share this coupon code, and their commission will be calculated on the final purchase total, less the coupon discount (if a discount is set).
Temporarily dismiss Expired/Invalid License reminder
The Expired or Invalid license reminder in the WordPress can now be dismissed temporarily.
Migration Assistant
The Migration Assistant to create new affiliate accounts for existing users in Affiliates → Tools has been fixed. You can use this tool to create affiliate accounts for existing users with specific user roles on your website.
Full changelog for version 1.8
New features
Affiliates can now be added when registering users
Expired or invalid license reminder can now be dismissed temporarily
Affiliate usernames are now displayed in Affiliates → Affiliates
Search by affiliate username in Affiliates → Affiliates
Improved interfaces throughout for choosing existing affiliates
Affiliate registration date and name are now displayed in the Edit Affiliate screen
Jigoshop integration has been expanded to cover coupon tracking
Paid Memberships Pro integration now supports per-level rate settings
Introduced new filters to hide/show Affiliate Area tabs
Tweaks
Improved compatibility with internationalization plugins
Improved the workflow for deleting affiliates
Text field for Creatives was expanded to accept more characters
Affiliate statuses are now translatable
Improved display on the Visits tab in the Affiliate Area
Bug fixes
The Migration Assistant user accounts tool now handles migrating existing users
Made the Migration Assistant user accounts tool compatible with Affiliates Pro
Referrals from WooCommerce COD orders are now marked 'pending'
Referrals from free Formidable Pro orders are now marked 'unpaid'
Referrals from PayPal for WooCommerce are now marked 'unpaid'
Prevent the 'Referral Variable' field from being empty
Fix sorting of several columns in the Affiliates table
Fix Visit counts from incrementing arbitrarily
Per-affiliate referral rate type is now respected
Shop page for WooCommerce is now compatible with pretty referrals