The New Creatives Tab: Let Affiliates Find Creatives in Seconds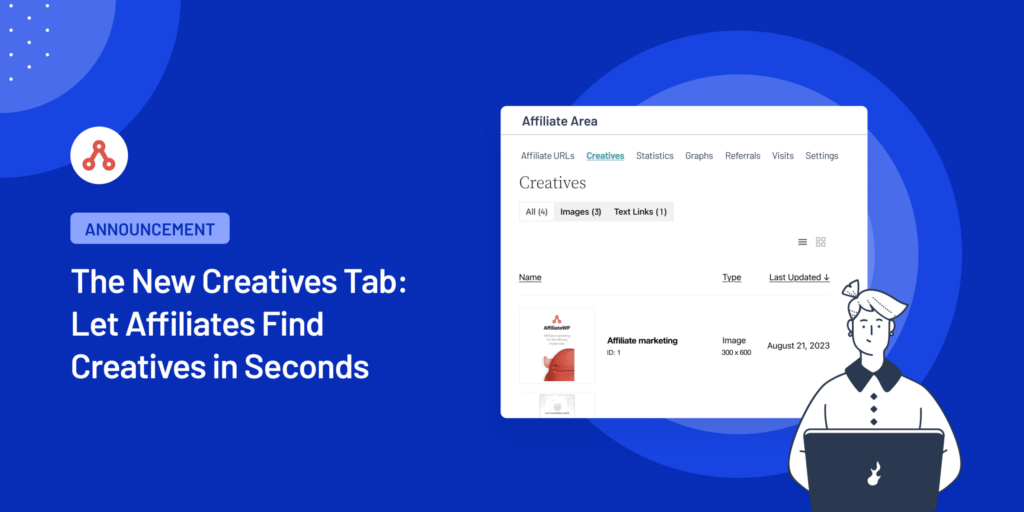 Ever wondered why your affiliates aren't driving as many conversions as you'd like?
Let's get real for a second:
You've set up your affiliate program and spent hours perfecting your creatives, but something's missing. Your affiliates are on board but less effective than you'd hoped. The bottleneck?
Finding the right creatives to use, fast.
We get it; time is money. The more time your affiliates spend finding the right creatives, the less time they spend marketing your products or services. It's a lose-lose for both affiliates and your business.
But here's the thing—what if we told you it doesn't have to be this way?
Today, we're thrilled to announce the launch of our new Creatives Tab in AffiliateWP 2.16.0, making your affiliates' lives easier.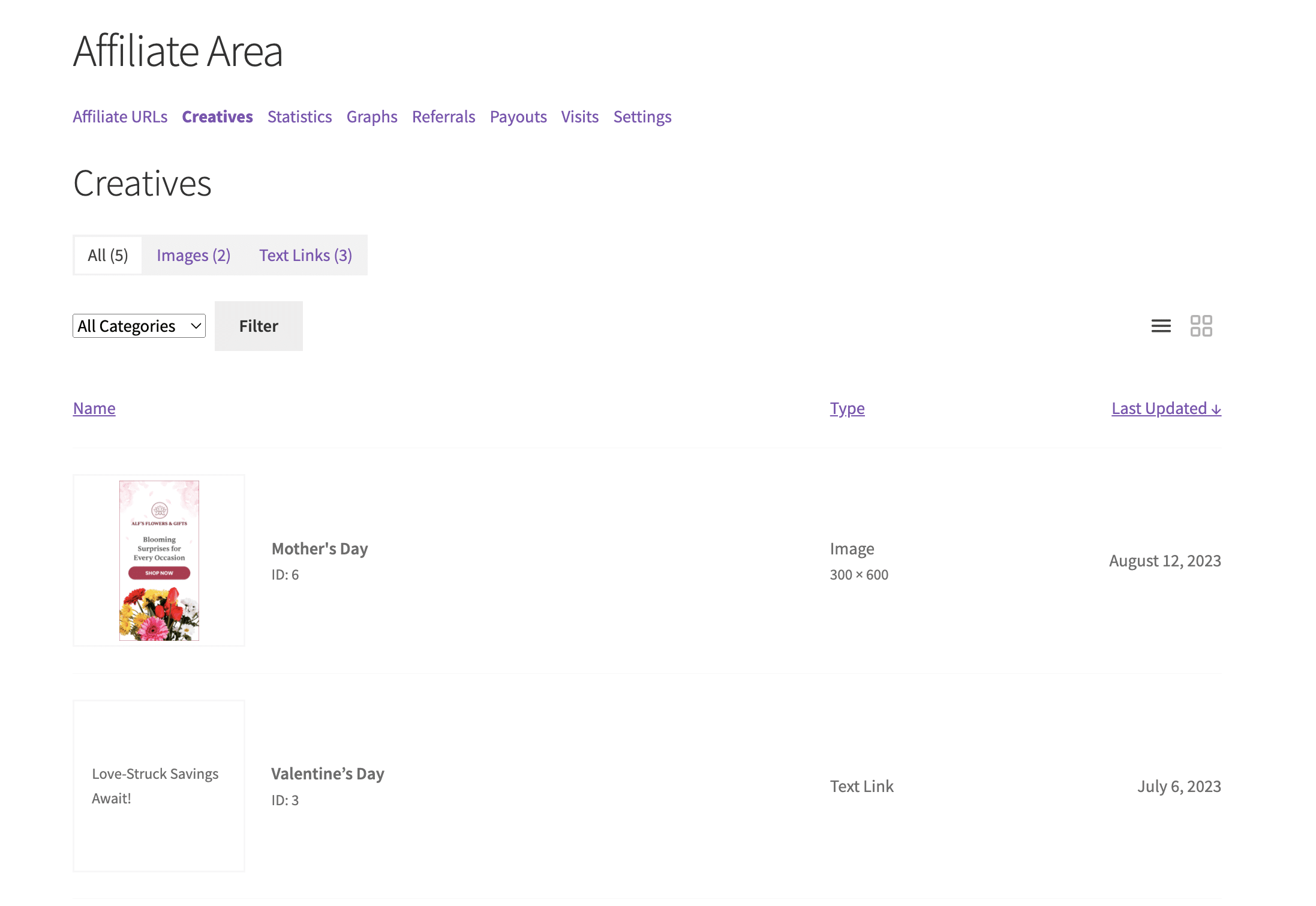 So, are you ready to help your affiliates help you make more money?
Keep reading to find out how!
Toggle Between List and Grid Views to Find Creatives Faster
The affiliate's experience has been enhanced in the newly designed Creatives Tab by introducing two simplified viewing options: the List View and the Grid View.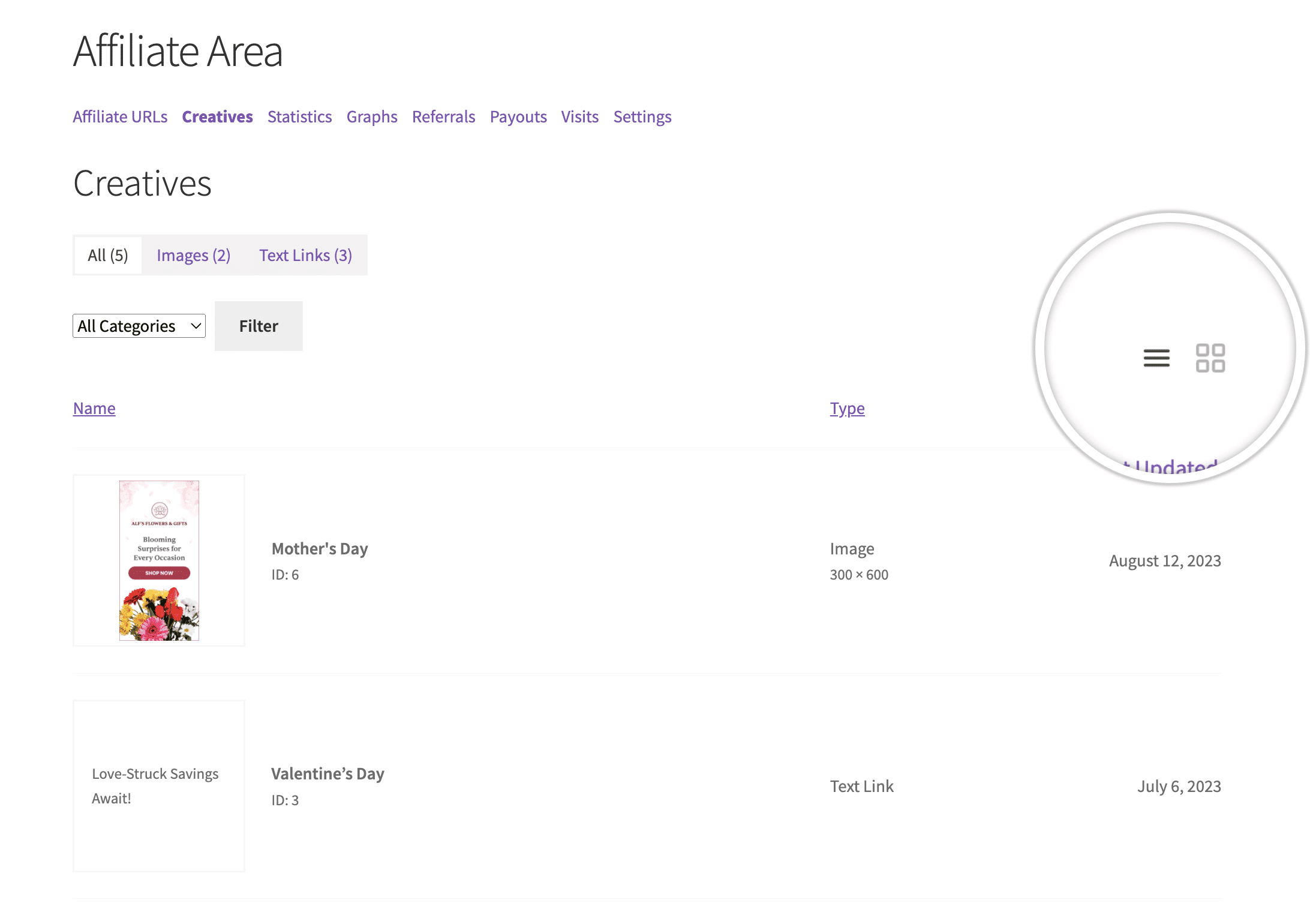 These two layout options are made for your affiliates' diverse preferences, making it easier than ever for them to find creatives.
List View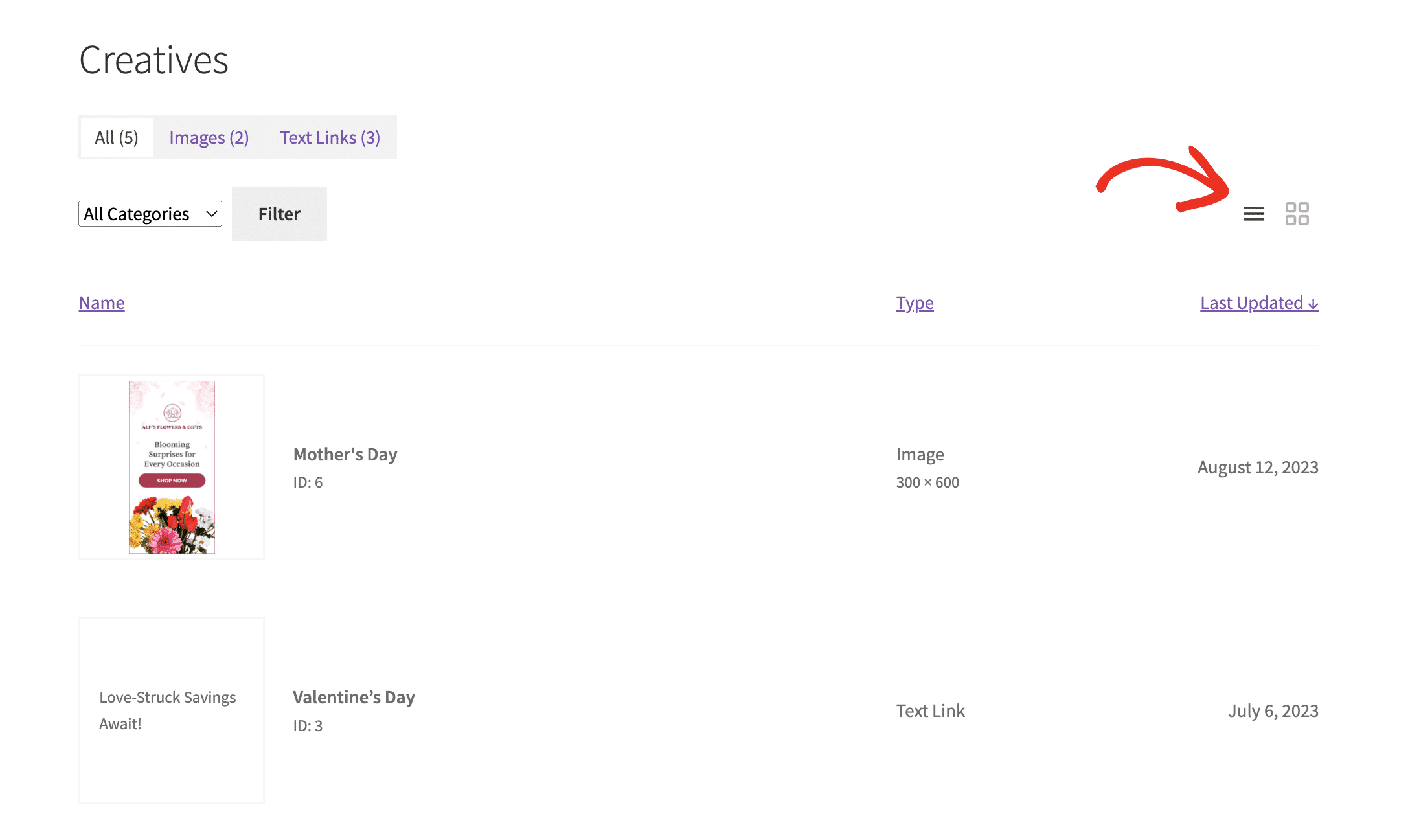 The List View provides an organized table layout where you can filter a creative by its name, type, or when it was last updated.
This allows affiliates to scan and select the appropriate creatives quickly.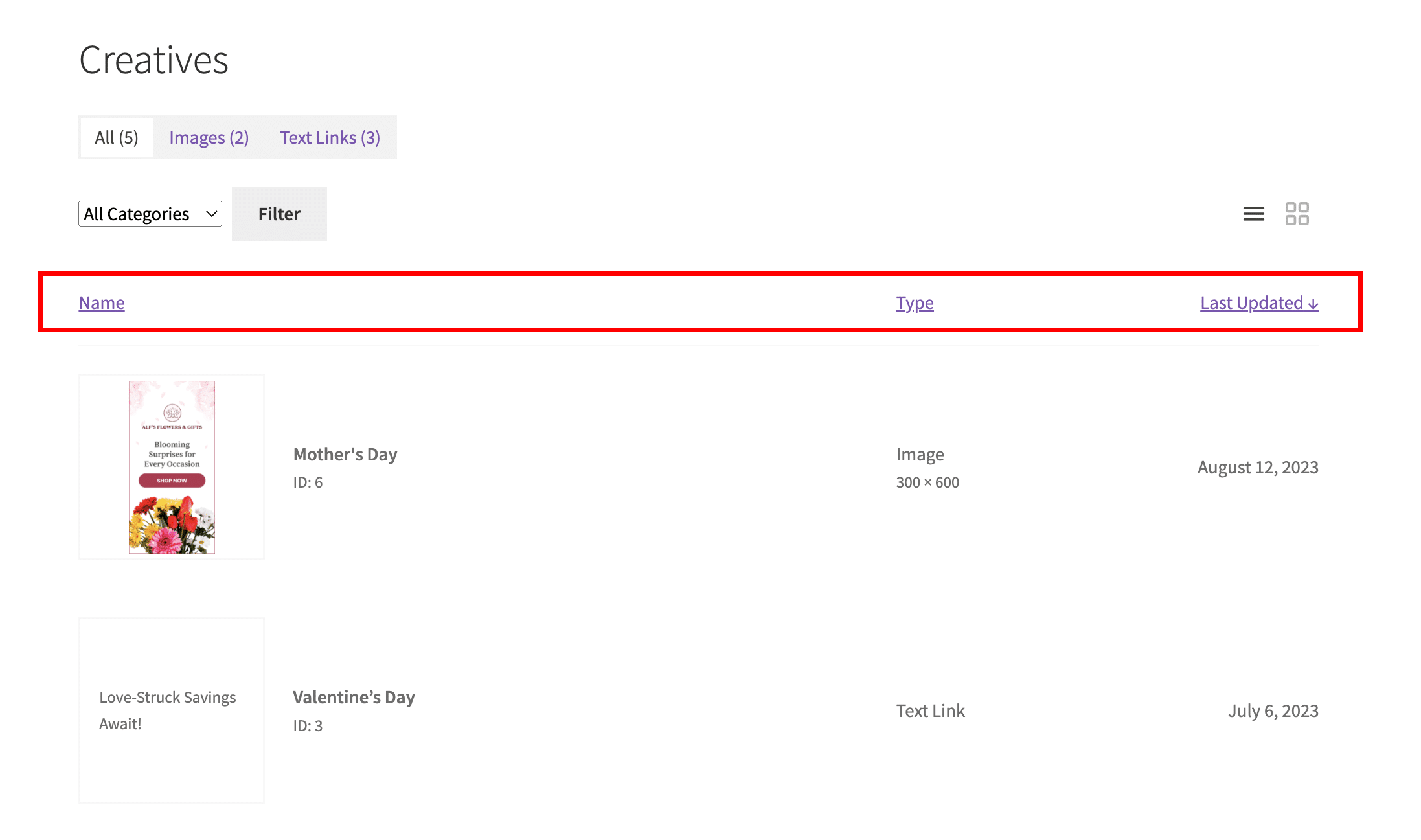 It's a straightforward approach for affiliates who value an efficient and easily readable layout as it shows fewer items at a time, making it easier to focus on each one.
Grid View
The Grid View lays out creatives in an easy-to-scan grid, allowing affiliates to see more options simultaneously.
This is perfect for affiliates who like to glance over various creatives and make their pick quickly.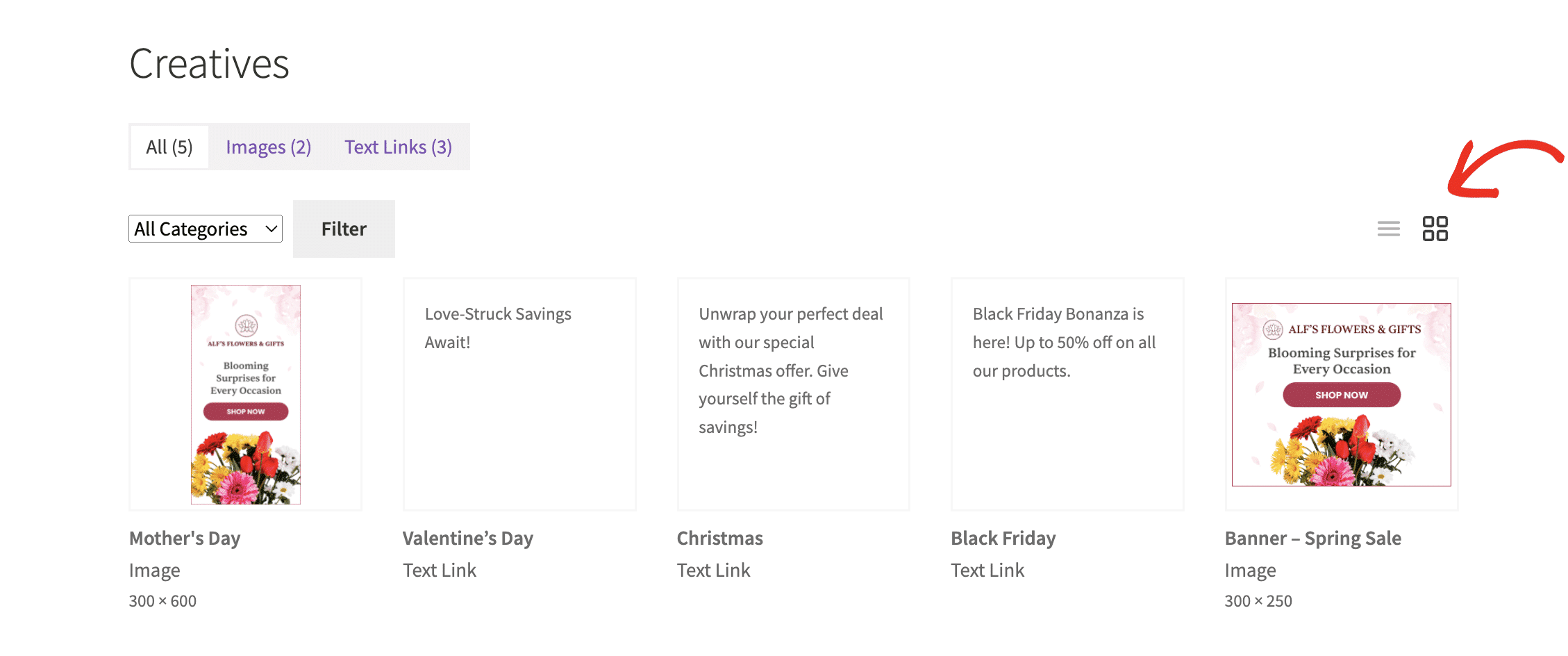 With more creatives visible on one screen, there's less need to scroll.
Infinite Scrolling
Say goodbye to clicking through page after page to find the right creative.
With the new infinite scrolling feature, as affiliates scroll down the page, any creatives automatically appear, saving them time and effort.
Personalized Viewing Experience
Affiliates last-used view, whether it's List or Grid, sticks around even if they log out or switch tabs within the Affiliate Area.
This way, when an affiliate comes back they can continue from where they left off, making for an even more personalized and efficient experience.
Introducing the New Creative Sorting Menu
We understand how time-consuming it might be for your affiliates to sort through many potential creatives to select the right one.
That's why we've enhanced the Creatives tab with a more simplified sorting menu.
The first thing your affiliates will see is the "All" category, showing every creative option available.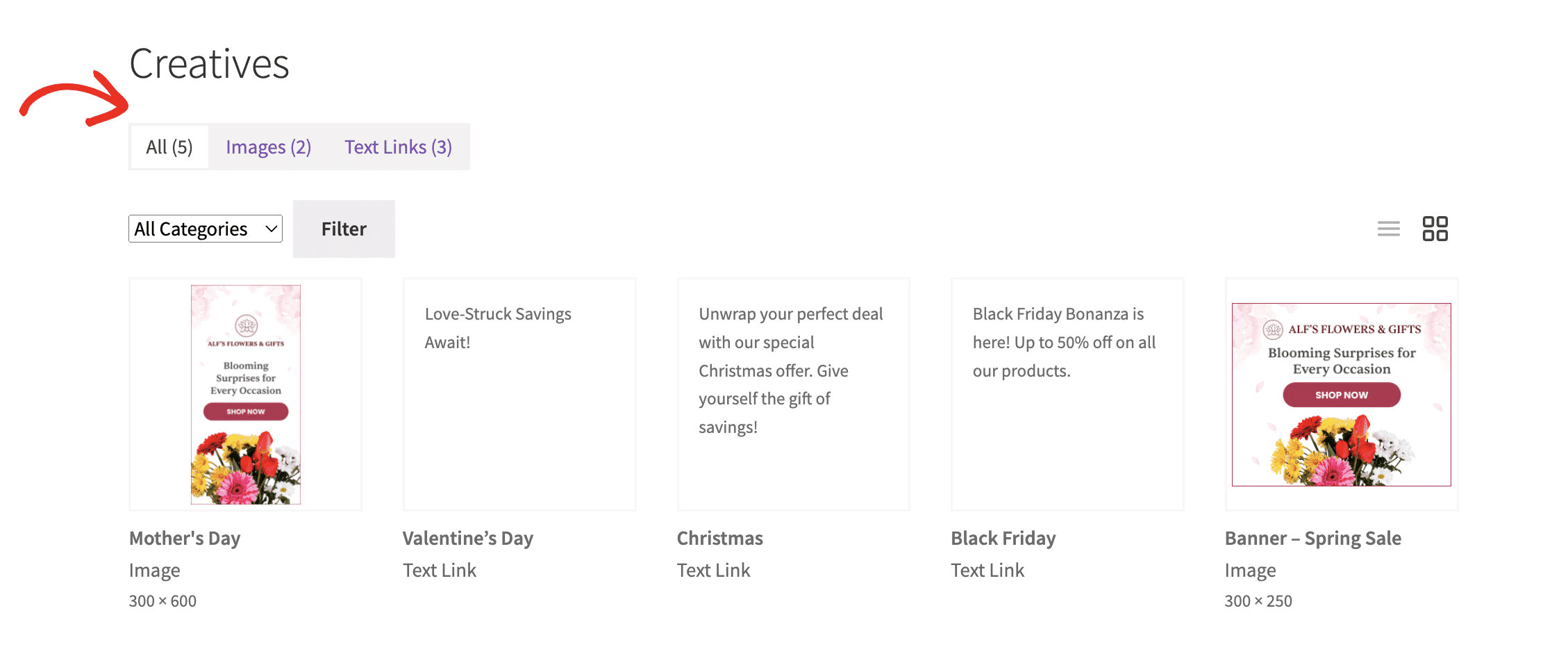 But if affiliates need something specific, our upgraded Creative Types Menu comes to the rescue.
Whether they're looking for text links or images, a single click narrows down the choices, making it quicker and simpler to find the right creative for their campaign.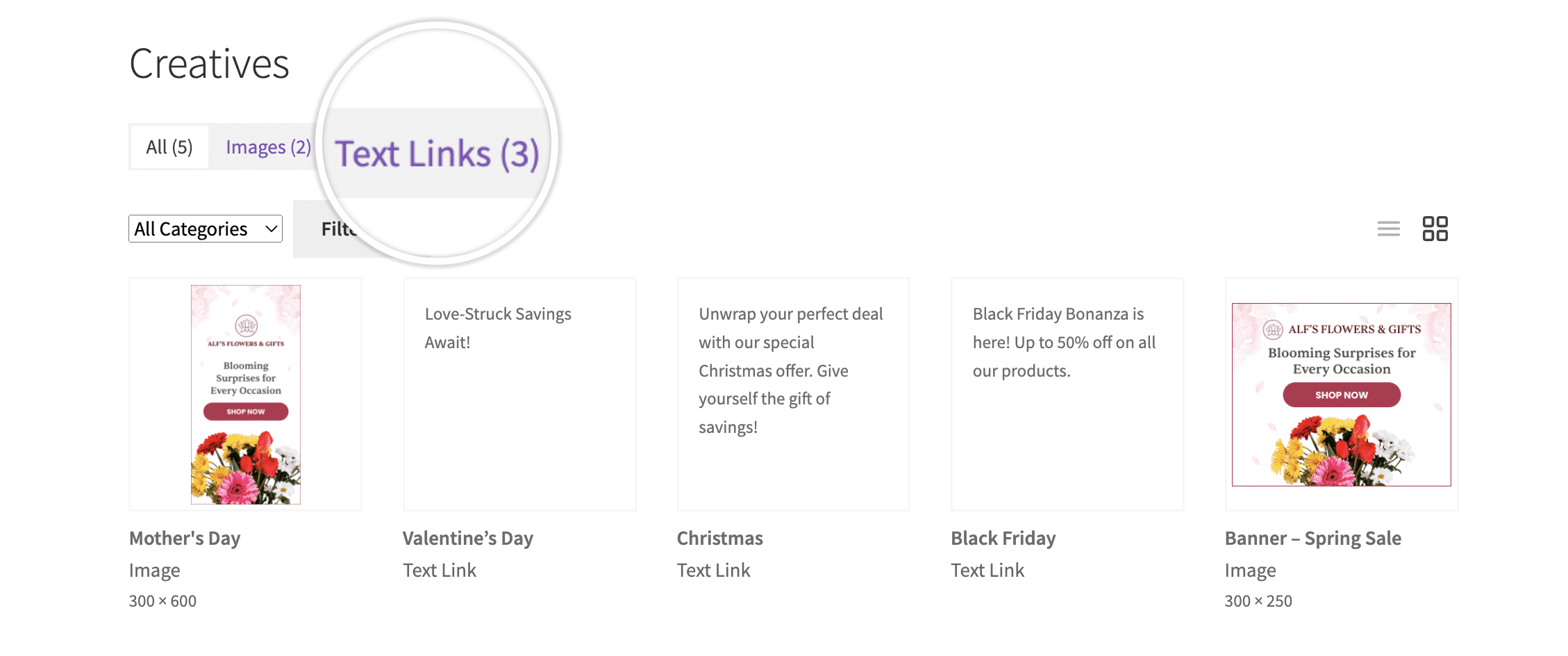 Efficiency improved. Time saved. It's that straightforward.
Single Creative View
With our single creative view, we've zeroed in on what's most important to your affiliates and given them all the important information they need in one clear overlay.
The single creative view shows an affiliate the creative's name, it's ID, when it was last updated, the HTML code to copy, and much more.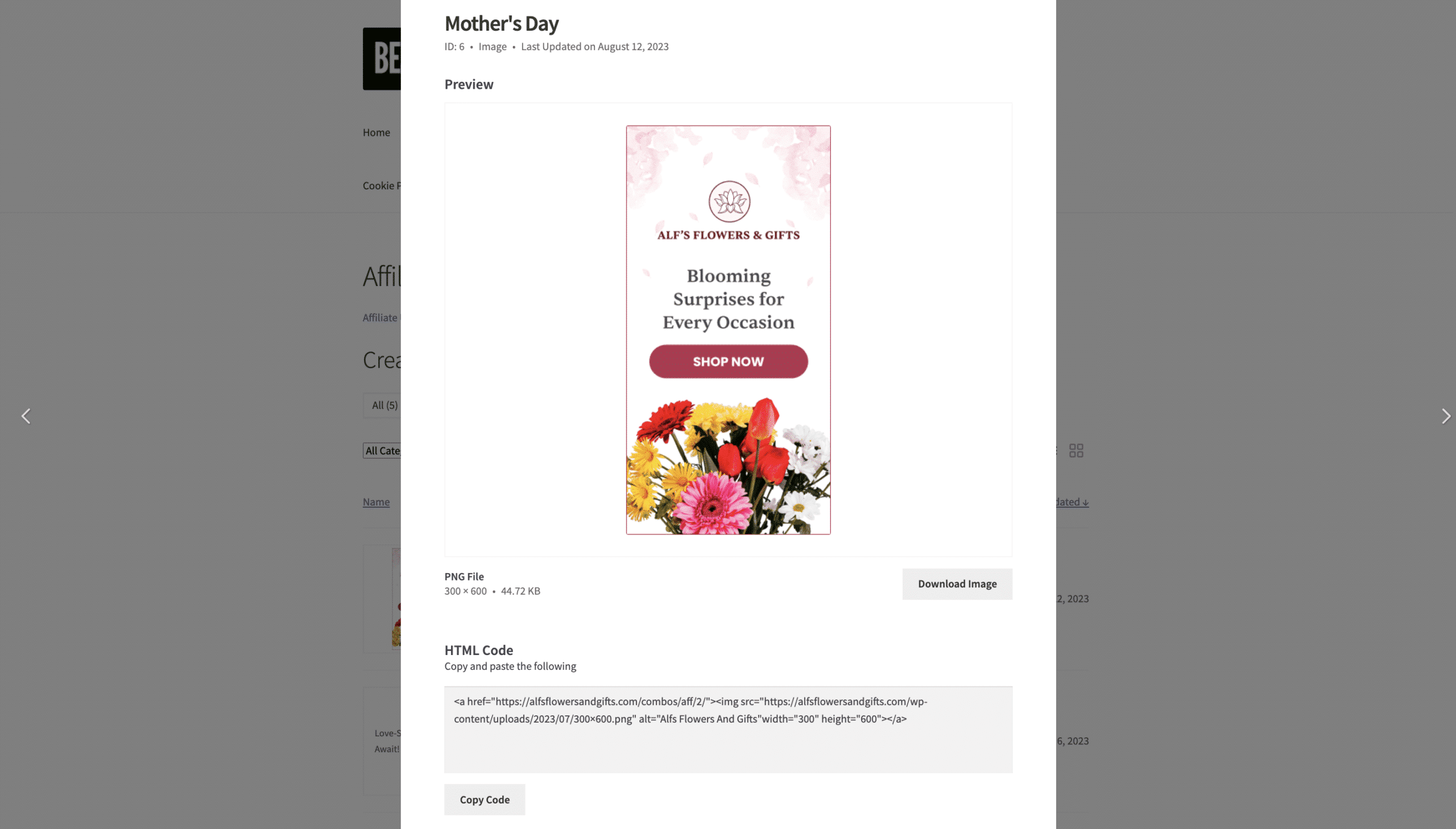 Affiliates can click on any creative to instantly see all the important details, no matter which view they're in.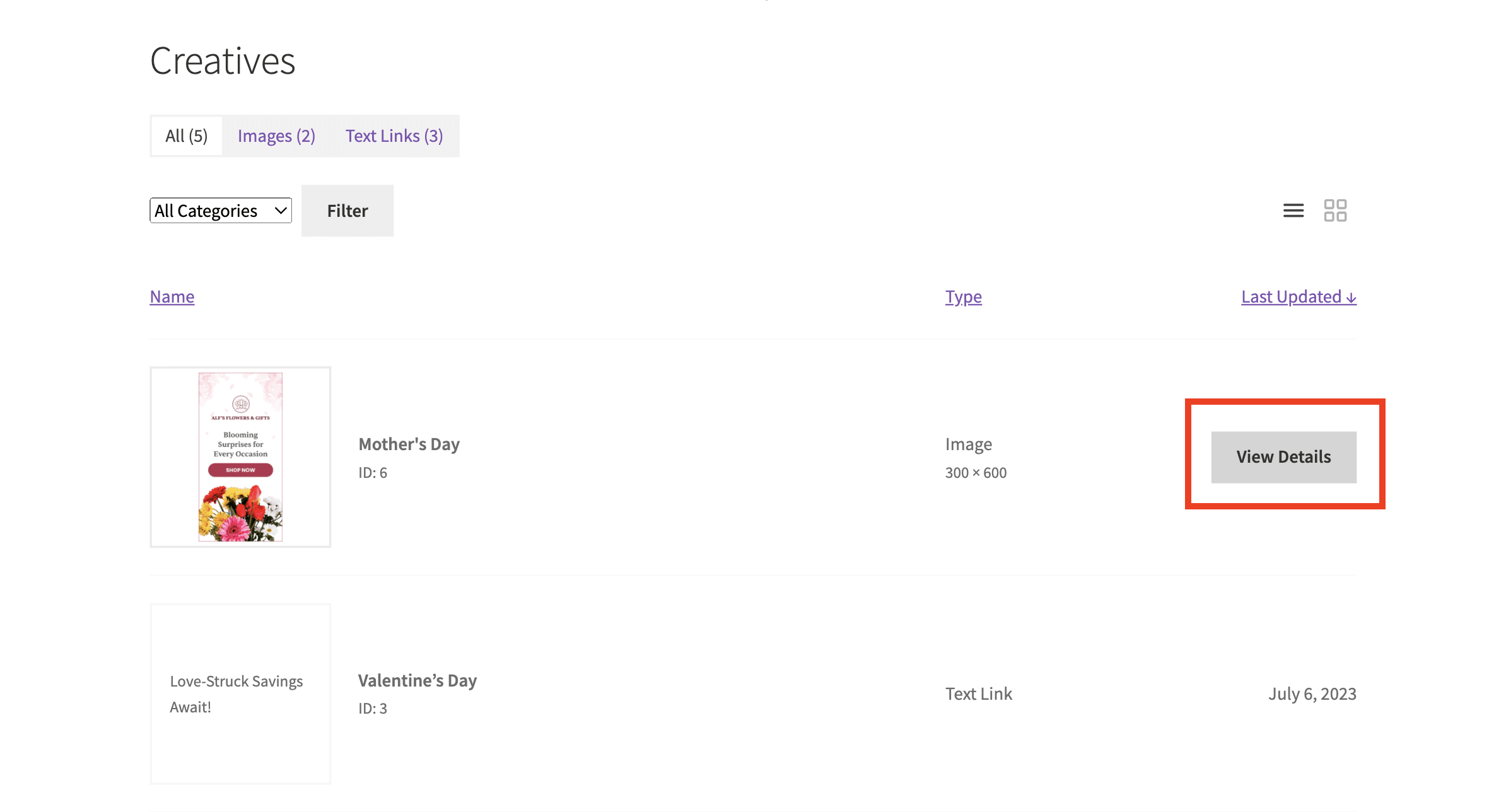 Additionally, affiliates can now jump from one creative to another without the hassle of closing and reopening. It's a smoother way to find what they need.
Affiliates can use on-screen arrows or their keyboard's arrow keys to navigate. Everything they need is neatly organized, making it quicker and simpler to get back to promoting your products.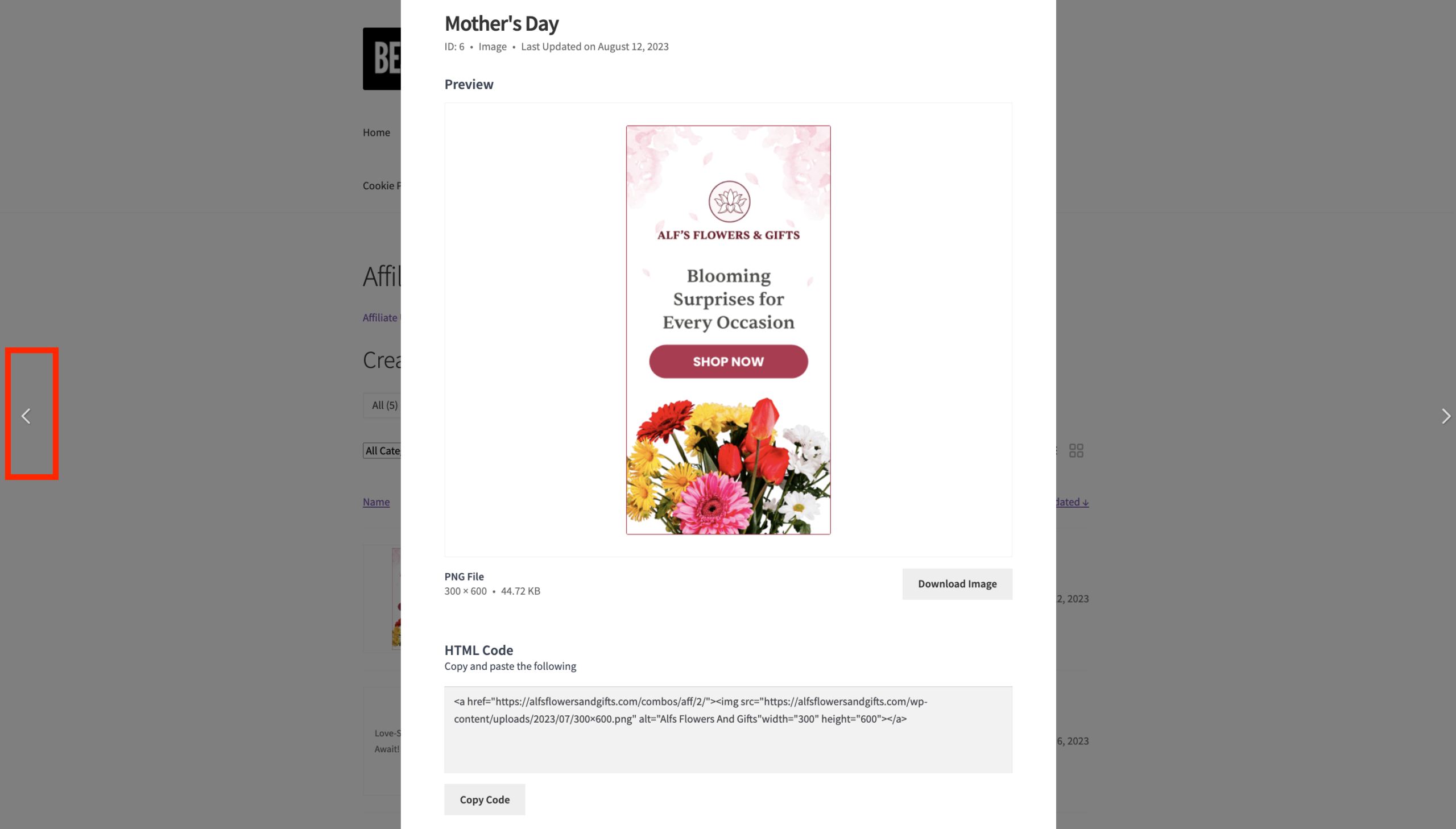 If the creative is an image, the single creative view provides essential information about the image like its file type, file size, and dimensions.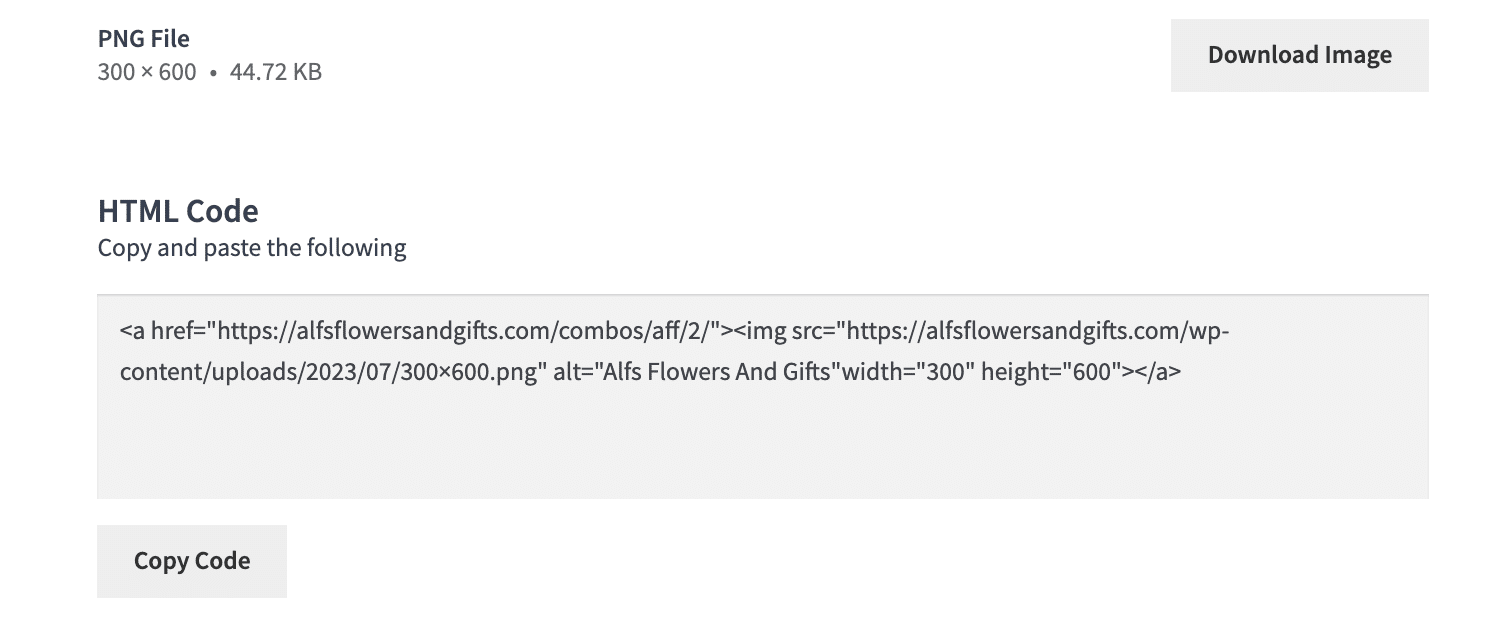 Additionally, a Download Image button is available, simplifying the process of getting the image for immediate use in their campaigns.
Awesome right?
Add Private Notes to Creatives
You have a lot on your plate as a business, and details matter to running a successful campaign.
That's why we have introduced private creative notes just for you.

With creative notes, you can leave little reminders, directions, or context about what each creative is for. This helps keep things neat and organized and ensures that important information doesn't get lost or mixed up.
Additionally, it's good to note that affiliate notes are private and visible only to you, not to your affiliates.
Imagine you're planning a big sale for Mother's Day. Just write anything you don't want to forget in the Notes space. No more notes lying around or material getting lost.
Here is how you can use the Notes field:

Creative notes offer an additional resource for maintaining campaign consistency and providing future guidelines, enhancing your affiliate management process.
Why Upgrade to New AffiliateWP 2.16.0
Affiliates sell more, you earn more. It's that simple. With AffiliateWP 2.16.0, you get the exact features to make this happen.
If you're already part of the AffiliateWP family, click Upgrade Now to access all the new features designed to simplify your business.
New to AffiliateWP? Unlock smarter affiliate management with us and explore the new features that will help you grow your business.