[New] Introducing the Custom Link Generator and Streamlined Creatives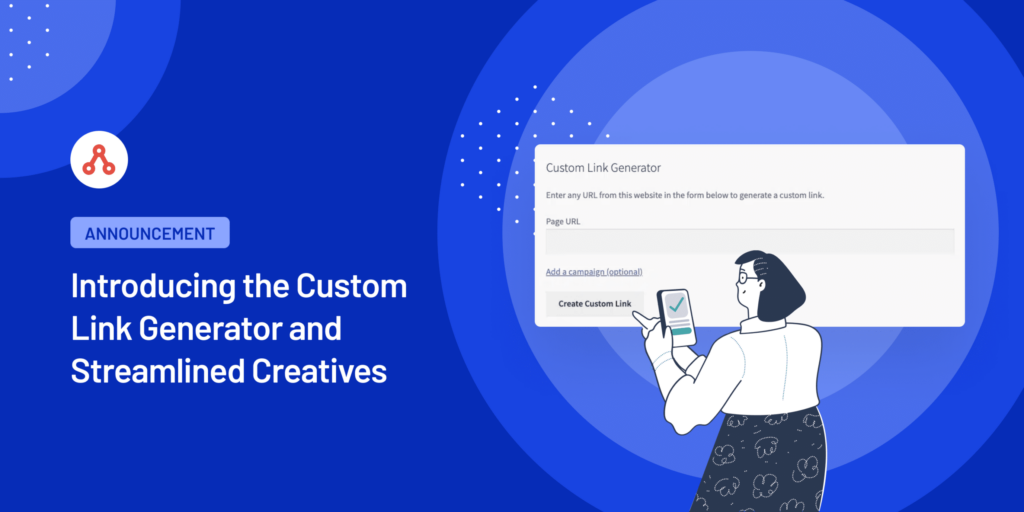 Have your affiliates ever lost a well-crafted affiliate link because it wasn't saved?
Have they poured their energy into setting up the perfect affiliate link to promote, only to find it gone when they need it most?
Well, those days are over.
We are thrilled to roll out AffiliateWP 2.14.0, a significant update packed with a tool to transform the affiliate experience.
Announcing the new Custom Link Generator – the tool that does more than create custom affiliate links.
It remembers them too!
With this update, the Custom Link Generator replaces the Referral URL Generator, bringing your affiliates a more robust, user-friendly, and effective solution to manage their affiliate links.
Manage Affiliate Links Like Never Before With the Custom Link Generator
The Custom Link Generator is more than just another feature; it's a game-changer for your affiliates.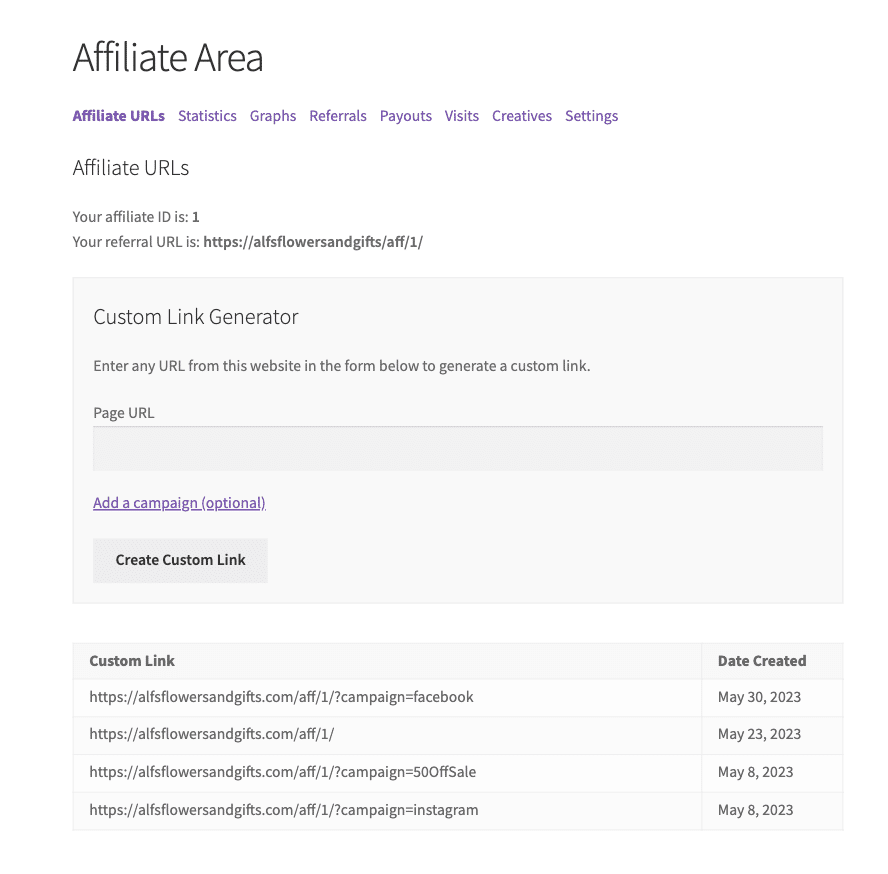 It empowers affiliates with the freedom and flexibility to generate unlimited custom affiliate links effortlessly, securely storing them for future use and sharing.
Affiliates only need to enter a page URL, optionally add a campaign name, and then click on Create Custom Link to generate their personalized link.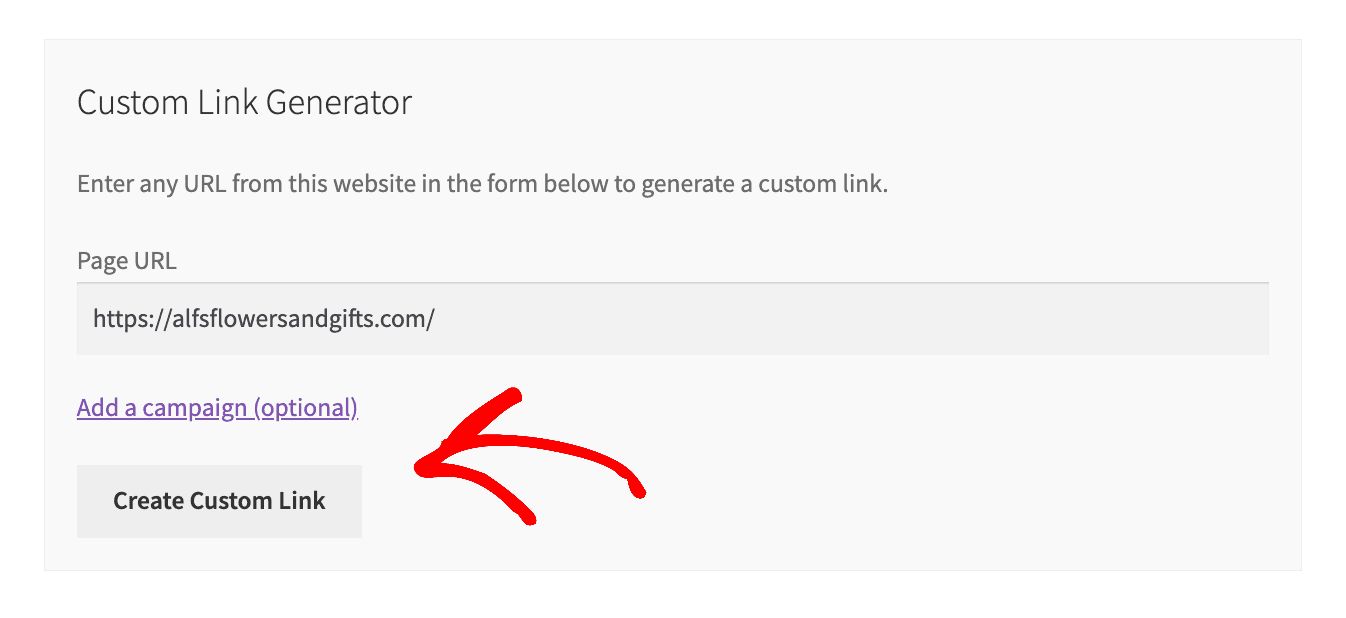 Once affiliates create a custom link, it automatically copies to their clipboard, or they can hover over the generated link to copy it from the table.

Affiliates can also click the URL they created to copy it to their clipboard.

Plus, it speeds up the link-sharing process, so affiliates can swiftly move from link creation to promotion, making their workflow more efficient and hassle-free.
The Custom Link column will display a campaign name if affiliates specify one. When affiliates have a campaign name, it becomes easy for them to monitor the effectiveness of each of their promotional activities individually.
This enables affiliates to identify which strategies work best, helping them optimize their efforts and potentially increase their conversion rates.
In the Custom Link table, affiliates will find the date of creation displayed for each link, offering them a bird's eye view of their promotional history.

This reduces the time spent searching for old affiliate links, allowing affiliates to allocate more time to promote your products or services.
Plus, customization doesn't stop there.
Affiliates can edit any custom link from the Custom Link table by hovering over the link they want to edit and clicking the Edit link icon.

Once clicked, the page will automatically scroll up to the Page URL, where they can see the Page URL input field highlighted and ready for editing.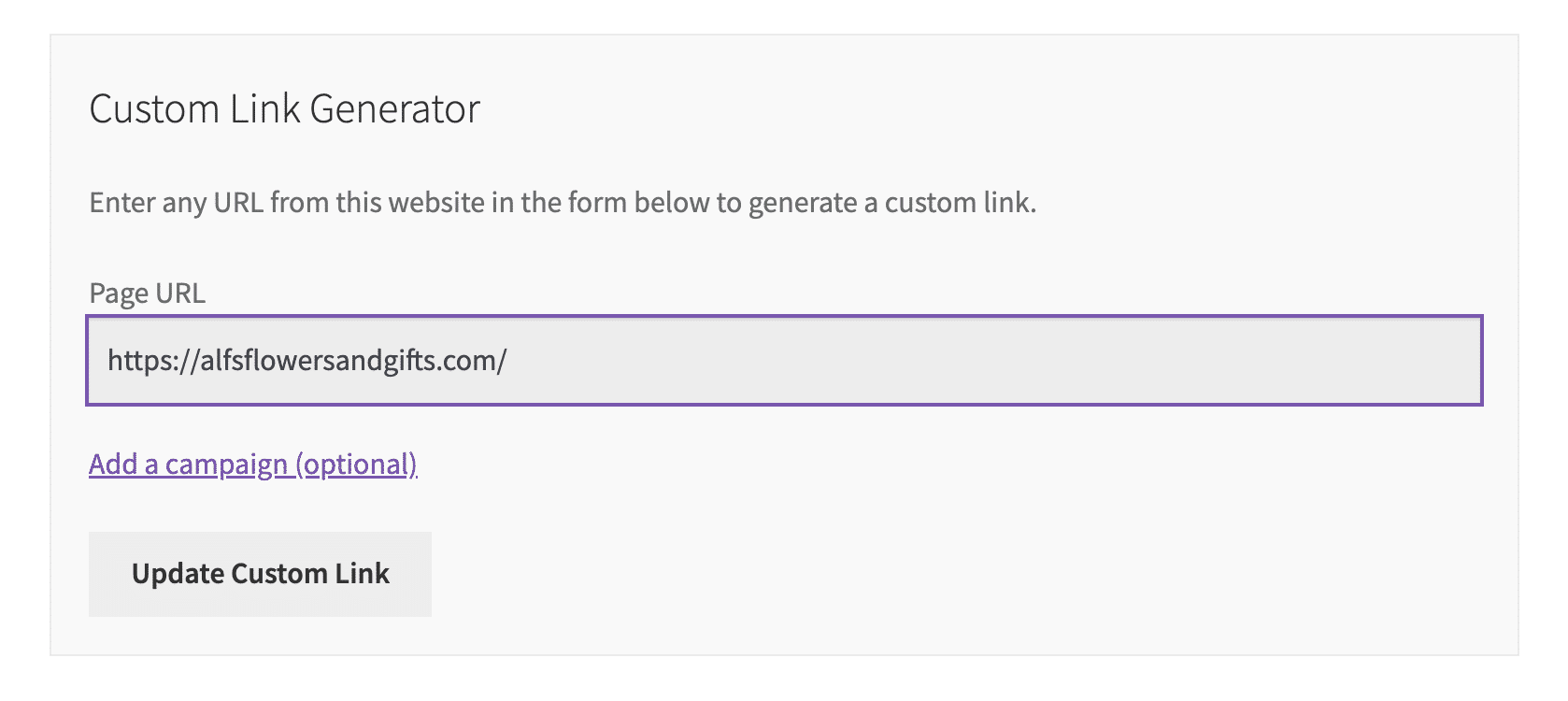 Within the highlighted input field, affiliates can make the desired changes to the URL according to their preferences or requirements.
Once satisfied with the changes, they can click the Update Custom Link button to save the edited custom link.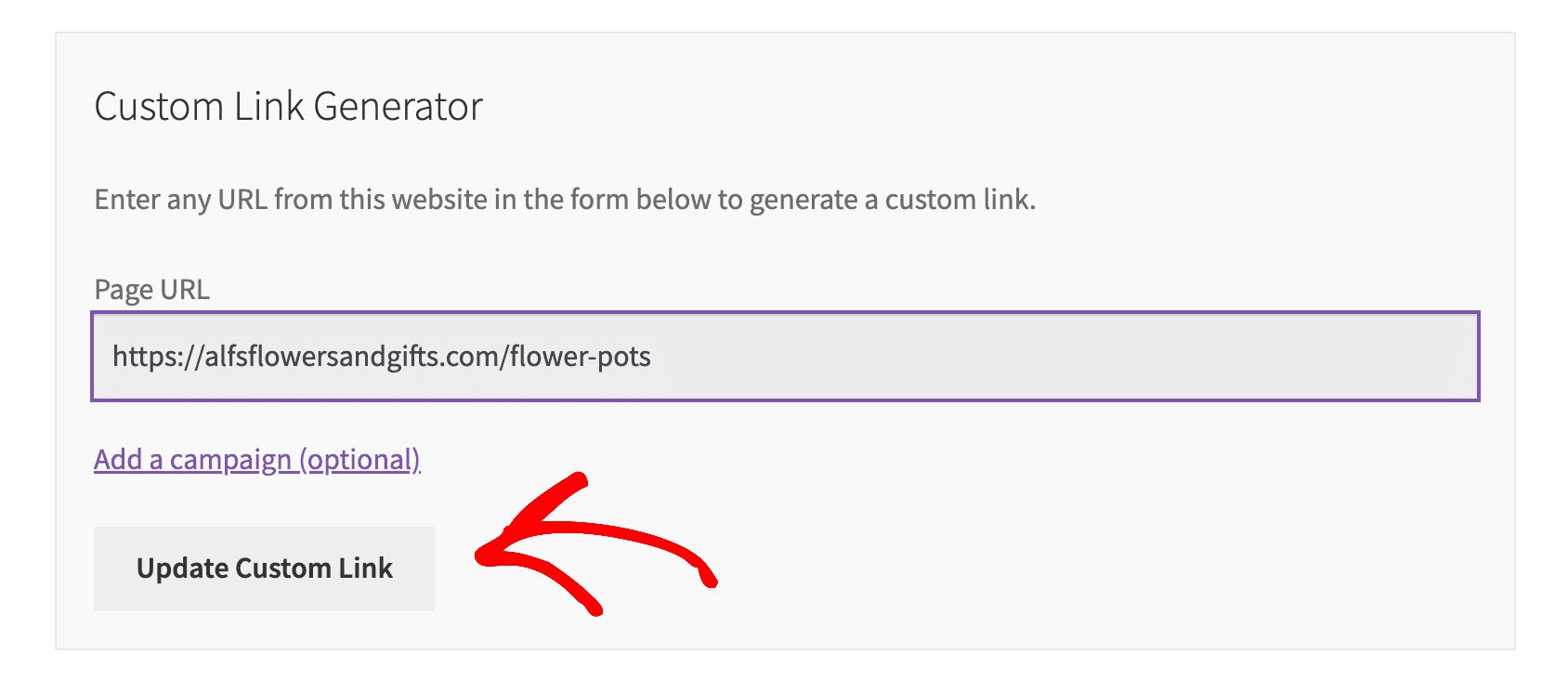 And that's it. Your affiliates will notice that your older URL gets updated to the new one in the custom link table.

If you decide to change the referral variable within your affiliate links, you can always do that by heading to the Referral Variable setting in AffiliateWP.
The best part is any change to AffiliateWP's Referral Variable setting is reflected immediately within the custom link table, ensuring affiliates always have the most up-to-date and working affiliate links.
For example, you can change the default "ref" variable (like the above image) to a custom referral variable like "aff " as shown below.
This will automatically change all the URLs in the custom link table from https://alfsflowersandgifts.com/ref/1/ to https://alfsflowersandgifts.com/aff/1/.
As you can see in the Custom Link table below, the "ref" referral variable is included in each link:

After changing the referral variable, all custom links now include "aff."
Ultimately, with this fantastic feature, your affiliates can focus on what truly matters – promoting products and driving conversions.
Moreover, this update isn't just about links!
We've also made some important tweaks to our Creatives admin screens, improving how you manage creatives.
What's New in Creatives Management
With this update, we aimed to simplify how users manage creatives while setting the stage for exciting new creative types to come.
Firstly, we have introduced a new Type column that enables effortless differentiation between Text Link and Image creatives.

Our changes also included adding an ID column to make it easy to reference the creative ID.

Additionally, the Image Preview column has been renamed to Preview. Text link creatives now show an accurate preview of the linked text, and we've also added support for showing externally hosted images if you're using those for image creatives.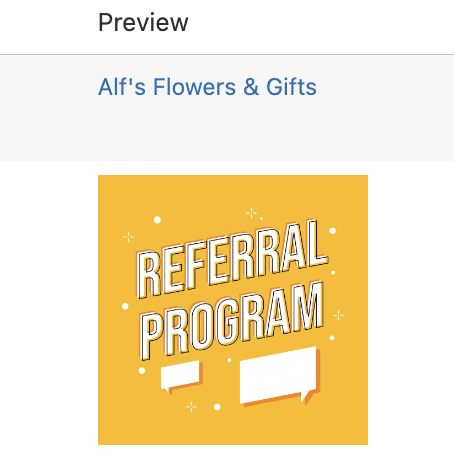 Further improving accessibility, we introduced a Manage Categories button at the top of the main screen, ensuring that managing your creative categories is always just a click away.

We have also introduced quick links to filter creatives by creative types like Text Links and Images.

To streamline user interactions, we relocated each creative's actions to be visible on hover, making the interface more consistent.

As we transformed our Creatives admin screens, we also looked at our New Creative and Edit Creative screens.
Here, we introduced a new Type option that helps tailor your view based on the type of creative you are working with. Depending on your selection, only fields related to that type will show, reducing clutter and enhancing focus.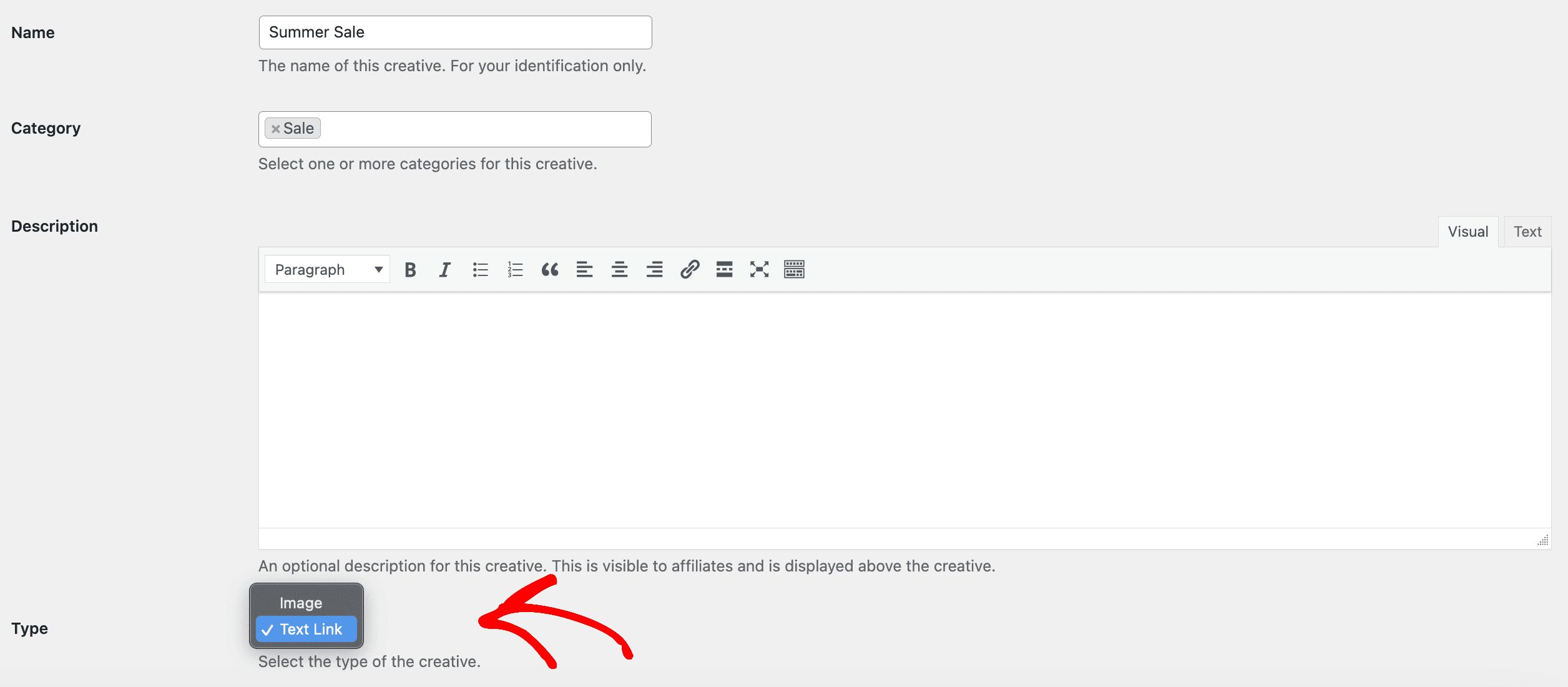 We are excited about the upcoming new creative types and are confident that these changes have set the stage for a smooth transition when they arrive.
Stay Tuned for More Updates!
At AffiliateWP, we're always working hard to develop innovative features that help you and your affiliates grow and thrive.
Adding the custom link generator and streamlining creatives in AffiliateWP 2.14.0 is another example of how we're constantly enhancing our platform to serve your needs better.
But as always, we're not stopping here!
Keep an eye out for more exciting announcements and updates as we continue to push the boundaries of affiliate marketing.
If you haven't already, now is the perfect time to get AffiliateWP and unlock the power of affiliate marketing for your business.
Upgrade to 2.14.0 today and experience the difference with the new custom link generator + streamlined creatives!