Notice: There is no legacy documentation available for this item, so you are seeing the current documentation.
Would you like to access AffiliateWP add-ons to extend the functionality of your affiliate marketing program? Each AffiliateWP license level comes with its own set of add-ons to help you get the most out of your affiliate marketing program.
In this tutorial, we'll show you how to install and activate add-ons for AffiliateWP.
---
Before getting started, you'll first need to make sure that AffiliateWP is installed and activated on your WordPress site.
Once AffiliateWP is installed, navigate to Affiliates » Add-ons to view the add-ons available with your license level.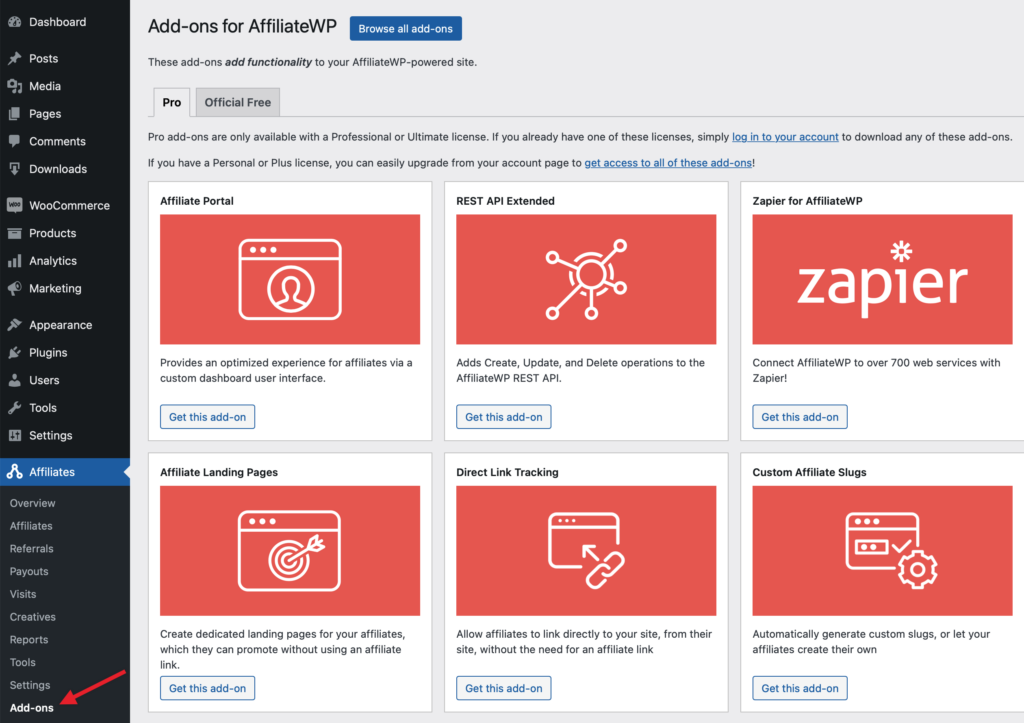 Clicking on any of the Get this add-on buttons will direct you to that add-ons page on the AffiliateWP site where you can then click Download Now. This will save a zipped file of the chosen add-on to your computer.
Note: In some cases, this file may unzip as you download it, and instead appear as a regular folder. However, the folder must be zipped to use the WordPress plugin uploader.
For more details on how to zip and unzip files, be sure to check out these guides for Windows or Mac operating systems.
Additionally, add-ons may also be downloaded directly from within your AffiliateWP account » Downloads.
Now that your add-on has been downloaded, you are ready to install and activate it!
Navigate to the site where you'd like to install the AffiliateWP add-on. Then, inside the admin dashboard, go to Plugins » Add New and click the Upload Plugin button.

From here, you'll see the option to upload the plugin. Click on the Choose File button and select the AffiliateWP add-on zip file you just downloaded.

After your file is uploaded, go ahead and click on the Install Now button.

This will begin the installation process for you. Once the plugin is installed, click on the Activate Plugin button to activate AffiliateWP on your site.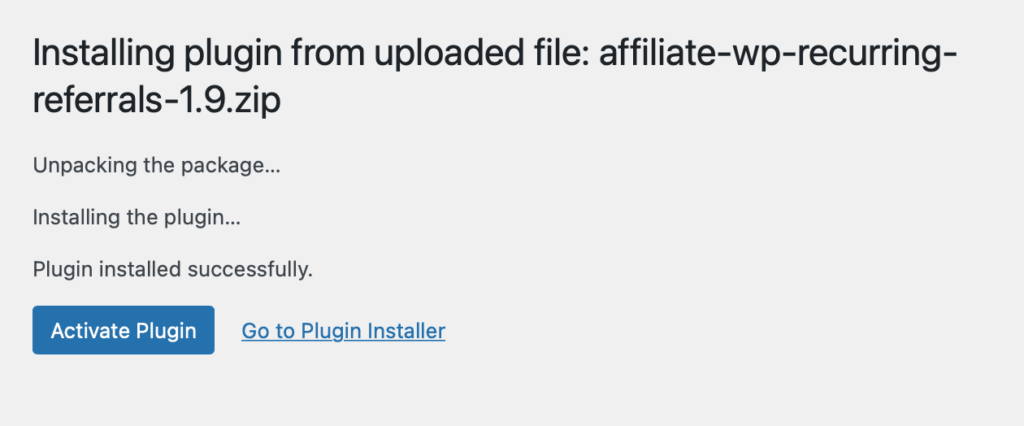 Congratulations, you've now installed and activated your add-on!
If you'd like the setup steps for a specific addon, please check out our documentation for each addon.