AffiliateWP turns two!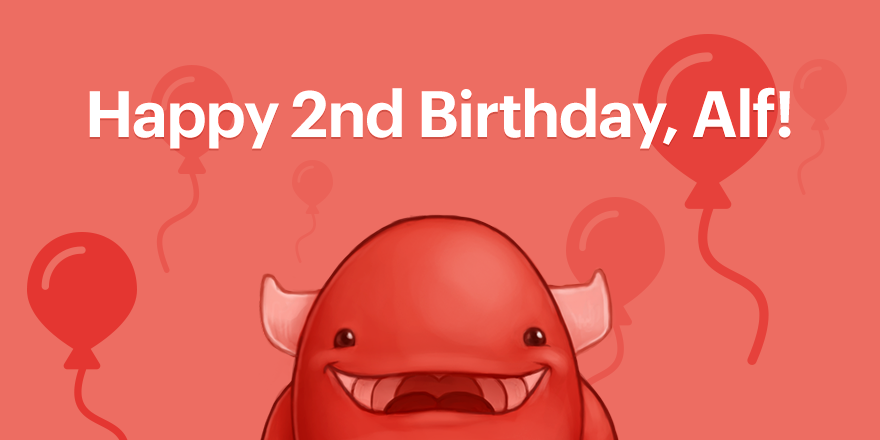 Today, AffiliateWP turns two years young, and it's thanks to you, our customers, that we're able to continue to bring you a product that can help take your WordPress-powered online business to the next level.
To celebrate Alf's 2nd birthday, I wanted to share some fun stats we've seen since AffiliateWP launched:
There have been almost 6,500 combined sales and renewals of AffiliateWP since we launched in April 2014
Our Professional and Ultimate license-holders are loving their pro add-ons, with over 10,000 total downloads across the 10 add-ons
We've processed just 362 refunds in two years
We have answered 8,643 support tickets, and helped 5,090 customers
And in the last year we've brought on 4 new team members (combination of full- and part-time), bringing our current crew up to six (#squadgoals).
We're super excited to be able to add new resource to our team, with folks from various backgrounds and experiences. It allows us to continue to grow and develop the plugin, to bring you more features and more robust functionality, as well as foster a diverse and engaging team culture.
If you'd like to read more on our performance and revenue, plus see a wrap on the 2 years since AffiliateWP was launched, check out Pippin's full post over on PippinsPlugins.com. And make sure you sign up to our mailing list to be the first to hear about updates, new version releases, and to get useful content to help you run an effective, efficient affiliate marketing program.
So, from us all, a sincere "Thank you!" to our customers for your ongoing support; and Happy 2nd Birthday, Alf!