Affiliate Payouts Service coming soon
One of the most consistent challenges we have heard from our customers is that it is too hard to pay your affiliates.
There are a number of existing tools in place that try to facilitate processing affiliate payouts, but they are either significantly lackluster or come with certain undesirable requirements. Today I am excited to share that we have been actively working on providing a good solution to this challenge for the last year and are nearly ready to make it available.
We've built a payouts service that allows site owners and affiliate managers to effortlessly pay their affiliates in 24 different countries (and more coming soon).
The service provides a simple and super easy-to-use way for you, the site owner or affiliate manager, to send commission payments directly to your affiliates via a direct deposit into their bank accounts or debit cards. The process is fast, too, with payments arriving in as little as four days for affiliates in the USA and 1-2 weeks for other countries.
Up 'til now most payout methods have involved generating a payment report and exporting a CSV of the earnings for each affiliate, then manually sending payments to those affiliates. Sometimes this involved PayPal, manual checks, cash, or possibly even pieced-together invoices that your affiliates had to send to you. Regardless of the tool used, it wasn't simple nor user-friendly, nor was it a good fit for global affiliates from all different countries.
Our new service provides a single, consistent experience, no matter which of the 24+ supported countries you or your affiliates reside in, and I'd love to show you a quick preview!
The process is straight-forward:
First, you connect your site to the Payouts Service from inside of AffiliateWP;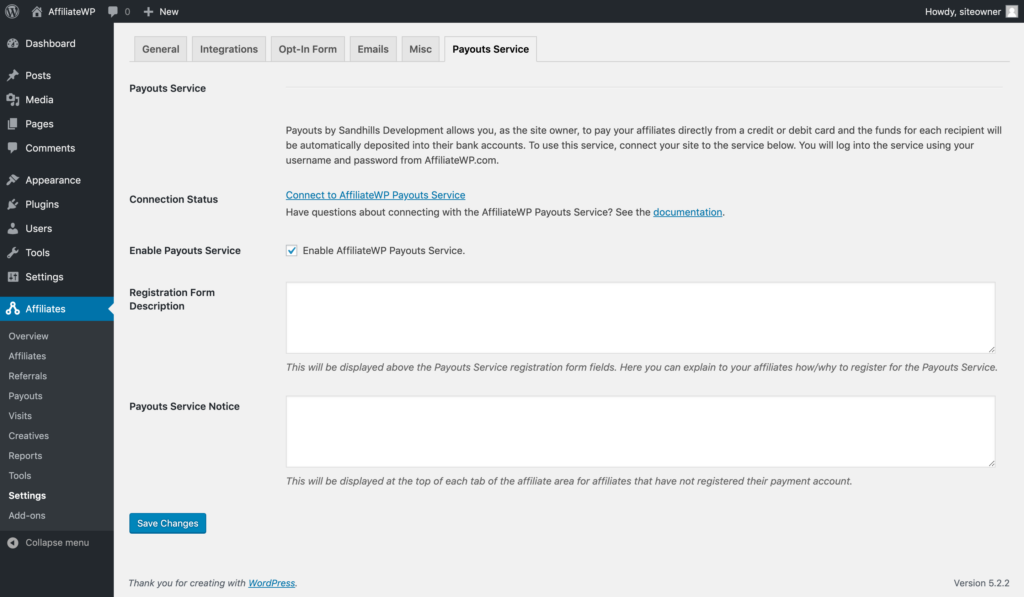 Second, affiliates register to be paid from inside their Affiliate Area: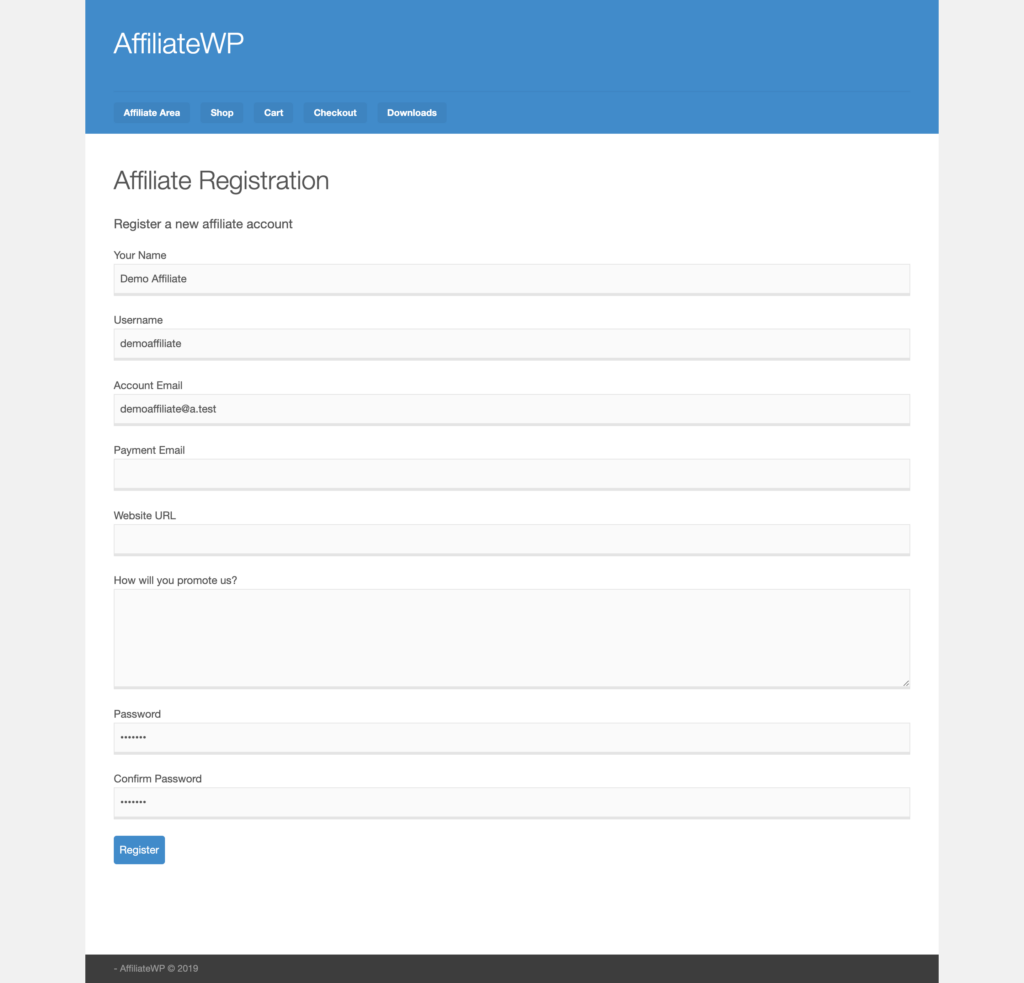 Third, a site admin or affiliate manager for your website initiates a payout from inside AffiliateWP.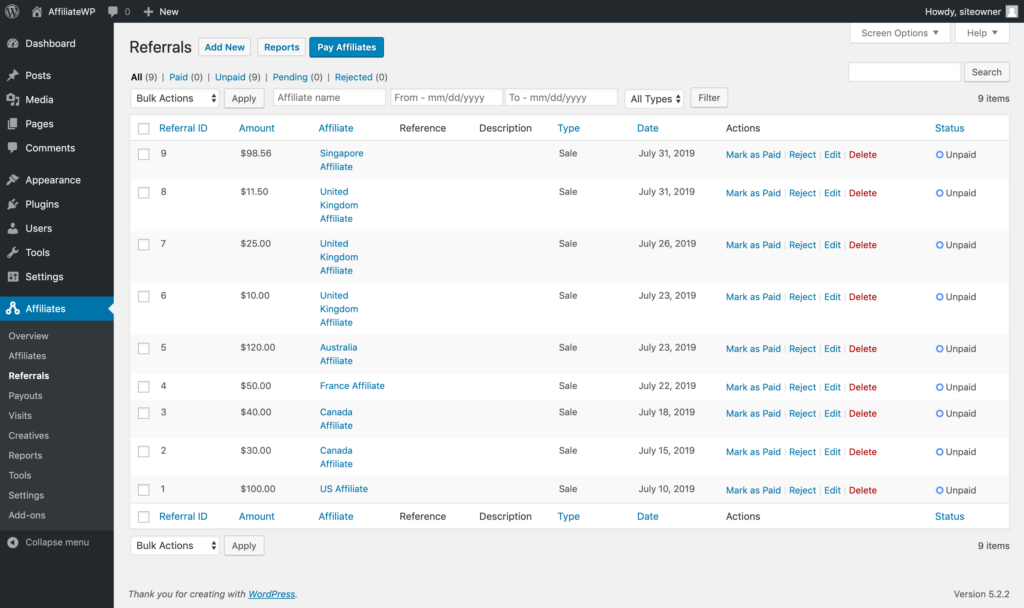 Fourth, we send you an invoice for the summed total of the payouts being processed plus a small processing fee: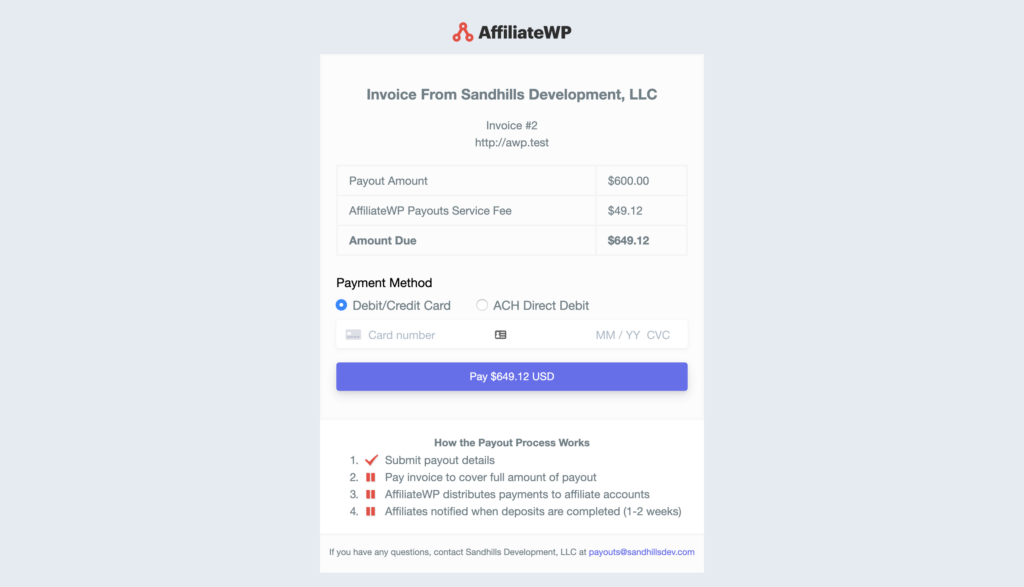 Once the invoice is paid, we begin dispersing the payments to your affiliates automatically. The process takes 3-14 days depending on the country the affiliate is located in, and throughout the whole process we keep everyone informed of the status with email notifications: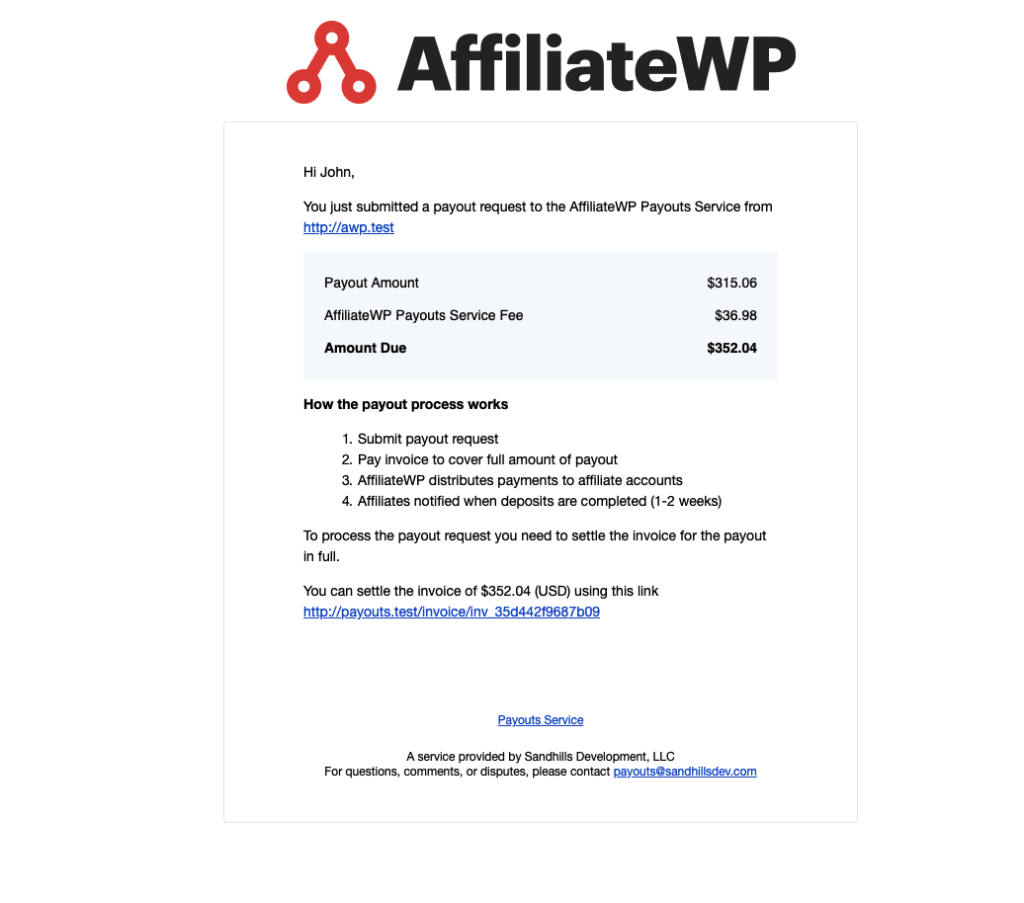 Launch timeframe
We are anticipating releasing this service with AffiliateWP version 2.4, which is currently in active development. In the coming weeks we will be releasing the first beta version of 2.4 that includes this payouts service.
How do affiliates receive their funds?
Affiliates receive their funds as direct deposits in their bank accounts. This takes 3-14 days depending on their country.
What does it cost?
Pricing for the service is simple. We charge 5% 3% + processing fees by our merchant processor. There are no monthly nor annual costs, nor any sign up costs. The only time you pay a fee is when you send a payout to your affiliates. The fee is 5% 3% of the total payout amount + processing fees.
We will have more exact pricing details available soon.
How to sign up
You will be able to sign up for this payouts service directly from inside AffiliateWP as soon as version 2.4 is released.
Learn more
If this is a service that interests you, you can learn more about it and subscribe to our email list to stay up to date from our new dedicated site for the service.
This service has been in progress for nearly a year and I'm thrilled to be able to share it with everyone soon. If you have any questions, I'll be more than happy to answer them!