Affiliate Dashboard Sharing v1.1 released!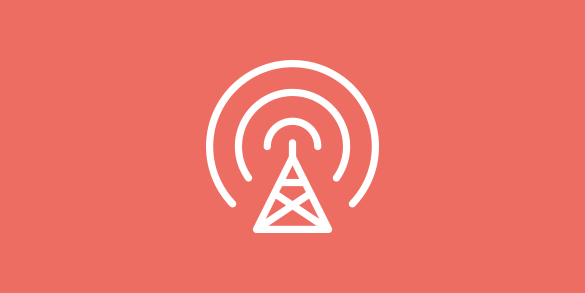 Version 1.1 of the Affiliate Dashboard Sharing add-on has been released, bringing with it some nifty new features that were requested by customers: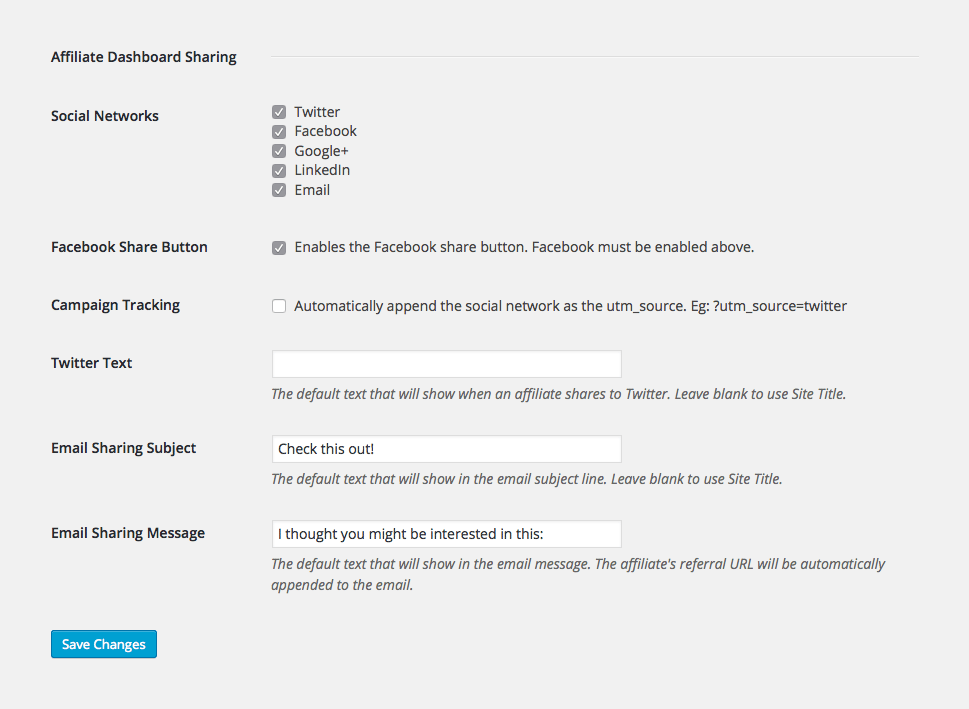 Social network toggling
Previously all 4 social networks were shown when you activated the add-on. Now you can select the ones you'd like your affiliates to share to.
Facebook share button
There's now an option to enable a Facebook share button. This button will appear below the Like button. The Facebook network must be enabled for the share button to show.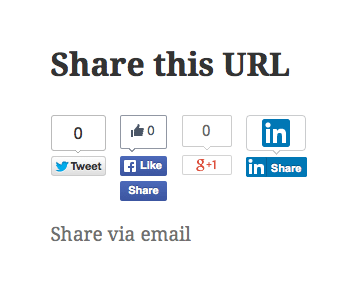 Share via email
It's now even easier for an affiliate to share their referral URL with the addition of a new email sharing option. When clicked, it will open up the affiliate's default email program. The email will be pre-populated with a subject line and the affiliate's referral URL in the email body.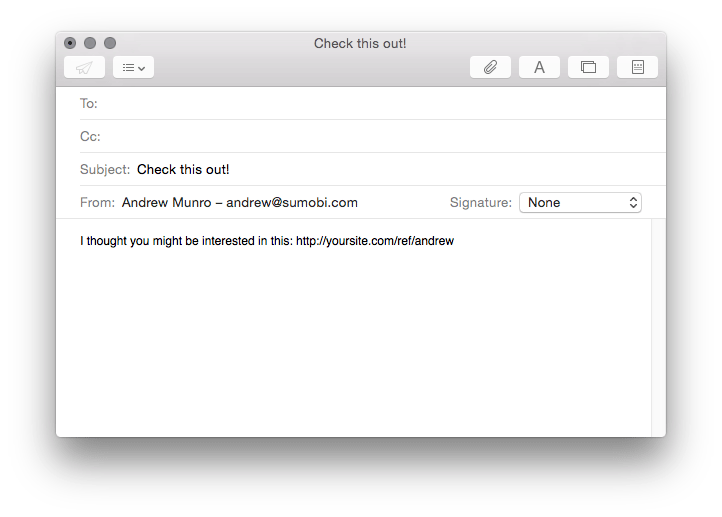 There's an option to set the default email subject line and also an option to add a quick introduction to the email body.
Just like the other sharing methods, the affiliate referral URL shown to the affiliate will depend on what the Default Referral Format and Pretty Affiliate URLs options are set to in the Affiliates → Settings → General tab. All affiliate URLs work out of the box, but these 2 settings control how the referral URL is shown to the affiliate.
Admin update notifications
Dashboard Sharing was the first pro add-on we built so sadly missed out on admin update notifications that other pro add-ons received. Version 1.1 adds this in so when we release a future version, you'll be notified (and can update) from within your WordPress admin.
Since update notifications do not exist in earlier versions you'll need to manually update to version 1.1 from your account page. If you're unsure on how to do this you can get in touch with us from the support page.
Campaign tracking
There's now a campaign tracking option that appends the social network to the affiliate's referral URL using the utm_source parameter.
If sharing on Twitter for example, the referral URL will look like this:
http://yoursite.com/ref/john?utm_source=twitter
Other minor improvements
In addition to the above we've moved the add-on's settings to Affiliates → Settings → Integrations, fixed a PHP notice and improved the add-on's activation script.
The new version of Affiliate Dashboard Sharing can be downloaded from the account page for all Professional and Ultimate license holders. If you have a Personal or Plus license, you can upgrade with just a couple of clicks from your account page.
Note, if you're manually upgrading from a previous version (pre v1.1), delete the old version or remove the add-on's folder via FTP (you won't lose any data) so you don't end up with 2 versions installed. The add-on's folder name in v1.1 has changed from affwp-affiliate-dashboard-sharing to affiliatewp-affiliate-dashboard-sharing.
Enjoy!