[New] Scheduled Creatives – Time Your Success with Seamless Automation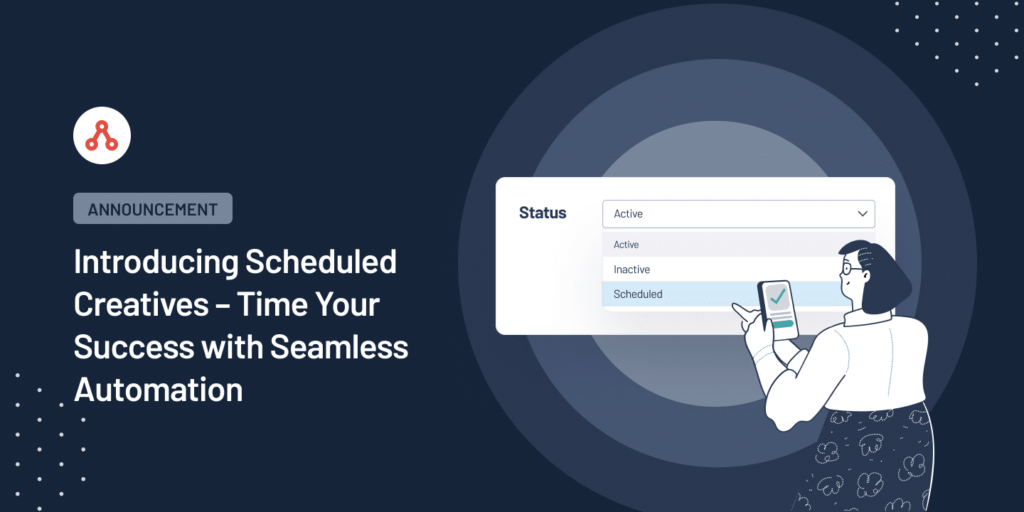 Are you constantly juggling your affiliate creatives, toggling them on and off to align with your marketing campaigns?
Imagine setting everything up in advance, scheduling your creatives to go live precisely when needed and disappear seamlessly once they're no longer needed, all without your constant intervention.
Sounds too good to be true? Not anymore!
We're excited to announce that AffiliateWP's Scheduled Creatives feature is now available for our Pro plan users.
It's here to revolutionize your affiliate marketing strategy and turbocharge your workflow.
Scheduled Creatives: A Game Changer in Affiliate Marketing
In our latest update, AffiliateWP 2.15.0, we're thrilled to introduce Scheduled Creatives.
Scheduled Creatives enable you to define each creative's specific start and end dates, ensuring they're visible to affiliates only during the selected period.
Gone are the days of manually toggling creatives on and off.
Instead, enjoy perfectly timed promotions that align seamlessly with your marketing strategies.
It's time to streamline your workflow and maximize every promotional opportunity.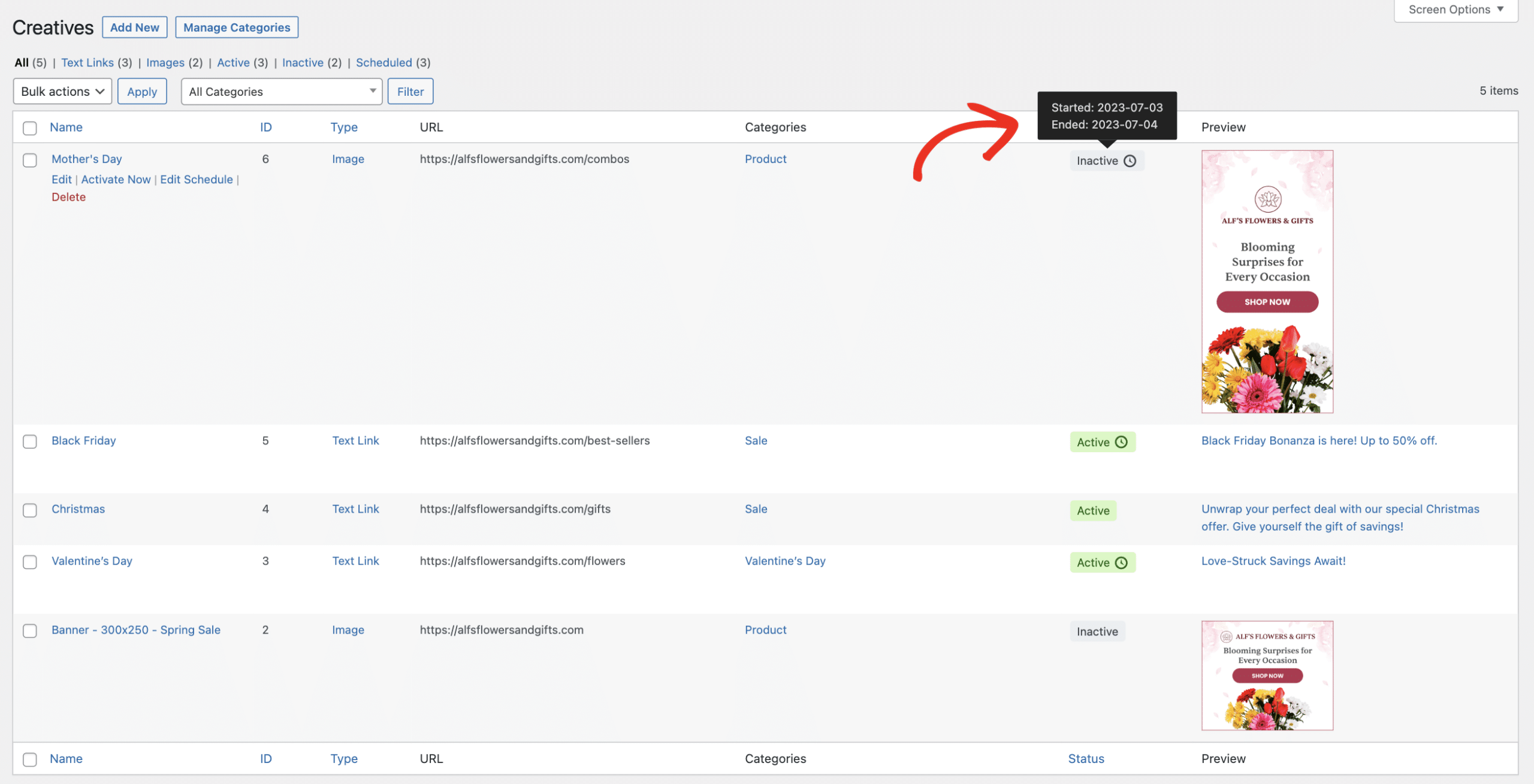 How Scheduled Creatives Works
The secret of Scheduled Creatives is its simplicity. You can specify a start and end date when adding or editing a creative.
These dates control when your creative is visible to your affiliates. As the start date arrives, your creative automatically becomes active.
Once it reaches the end date, it automatically hides.
The result? A hands-off, hassle-free solution to managing your promotional materials.
With Scheduled Creatives, you move from constant monitoring to sophisticated strategic planning, transforming your affiliate marketing approach.
How Scheduled Creatives Can Transform Your Marketing Campaigns
To illustrate the powerful impact of Scheduled Creatives, let's consider a practical example – Black Friday.
This event is the busiest shopping period of the year and often involves much pressure on marketing teams who need to maximize the available opportunities.
In the past, preparing for Black Friday might have involved manually activating creatives and then deactivating them once the event ended.
With Scheduled Creatives, this entire process can be automated.
You can begin setting up your creatives a few weeks or months before Black Friday.
You can schedule the start date to ensure your affiliates receive the promotional materials ahead of time, giving them ample opportunity to prepare their marketing strategies.
Once you've set the end date to coincide with the end of your Black Friday promotions, the creatives will automatically deactivate.
There's no need to remember to manually switch off campaigns, even amidst the whirlwind of the Black Friday rush.
This frees up time for you to concentrate on other vital aspects of your Black Friday strategy, ensuring that you're making the most of this important shopping event.
With Scheduled Creatives, the Black Friday frenzy becomes a breeze, and your affiliate marketing becomes more efficient and effective.
Impact of Scheduled Creatives on Your Marketing Campaigns
Scheduled Creatives impact your marketing campaigns in many ways:
Optimized Timing: Your creatives go live precisely when they should, leveraging peak engagement times for maximum effectiveness.
Improved Efficiency: Eliminate the need for manually activating/deactivating creatives, freeing up your time to focus on other strategic tasks.
Reduced Stress: Say goodbye to last-minute rush; with Scheduled Creatives, you can plan and execute everything smoothly.
Enhanced Affiliate Experience: Affiliates will appreciate seeing up-to-date and relevant creatives that align with ongoing promotions. Such visibility can lead to increased affiliate engagement and improved performance.
How to Schedule a Creative
Implementing Scheduled Creatives is a straightforward process. Here's how to get started:
1. Navigate to the AffiliateWP Creatives Admin Screen
Start by adding a new creative (or editing an existing one) from the Creatives admin screen.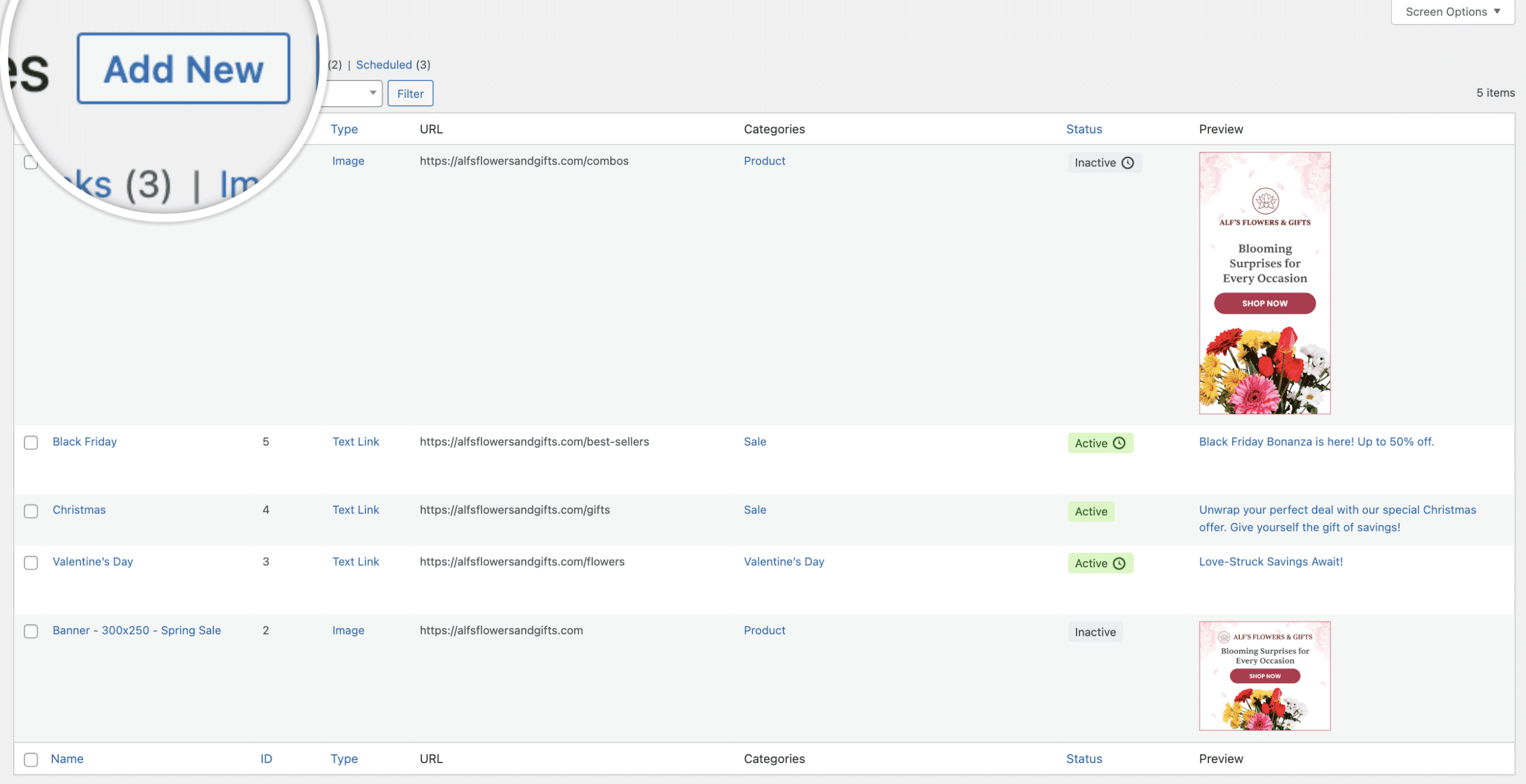 2. Set the Creative Status to Scheduled
Scroll to the Status dropdown and select the Scheduled option.

3. Schedule Your Creative
A new Schedule section will appear, showing two date fields: Start date and End date.
Here, you have three options:
Set the start date only if you want to schedule a creative to become active at a future date. Once live, it will remain active until manually deactivated.
Set the end date only if you want a creative to be active immediately but deactivate automatically at the scheduled end date.
Set both the start date and end date to have the creative start and end automatically at the respective dates in the future.
Remember to choose the dates that align best with your marketing campaigns and strategies.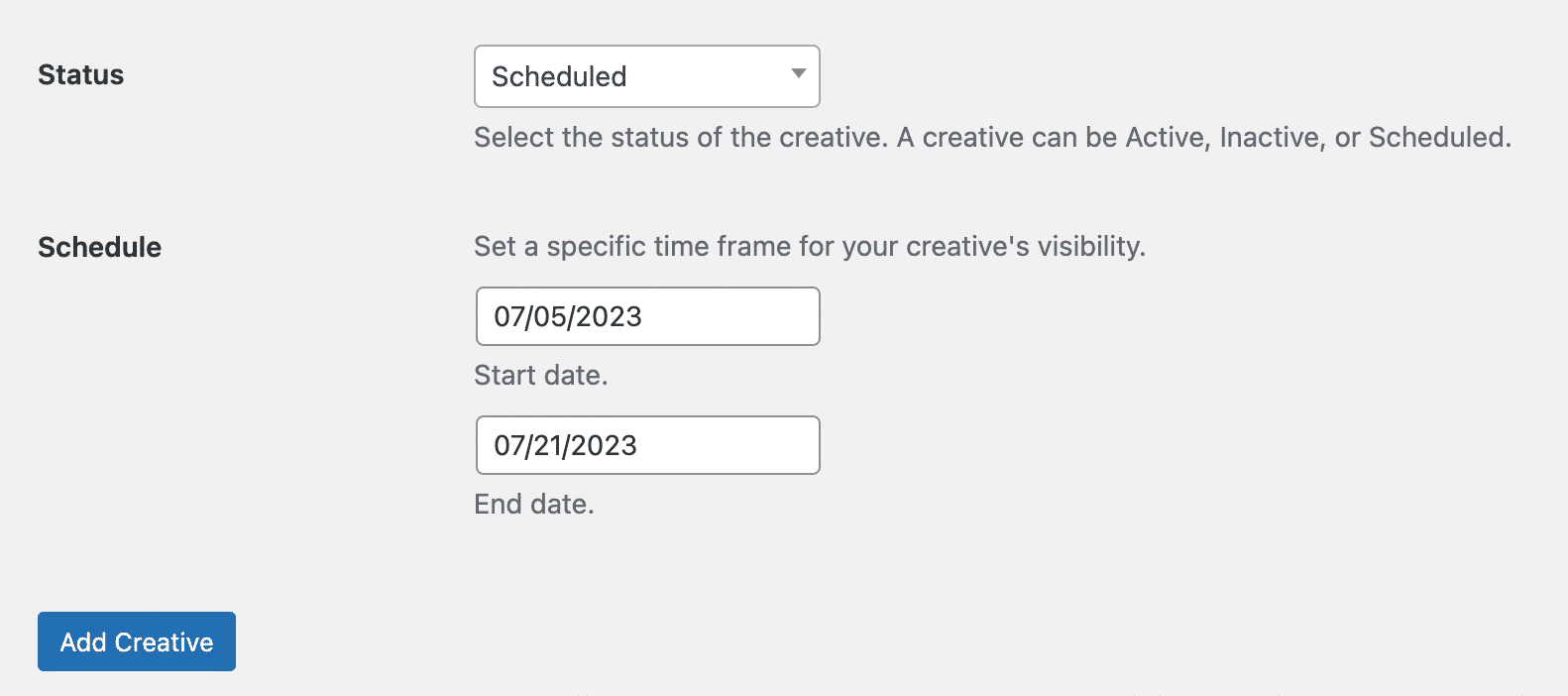 4. Save Your Creative
After you've selected the desired dates, finalize the process by clicking on the Add Creative (for a new creative) or Update Creative (for an existing one) button.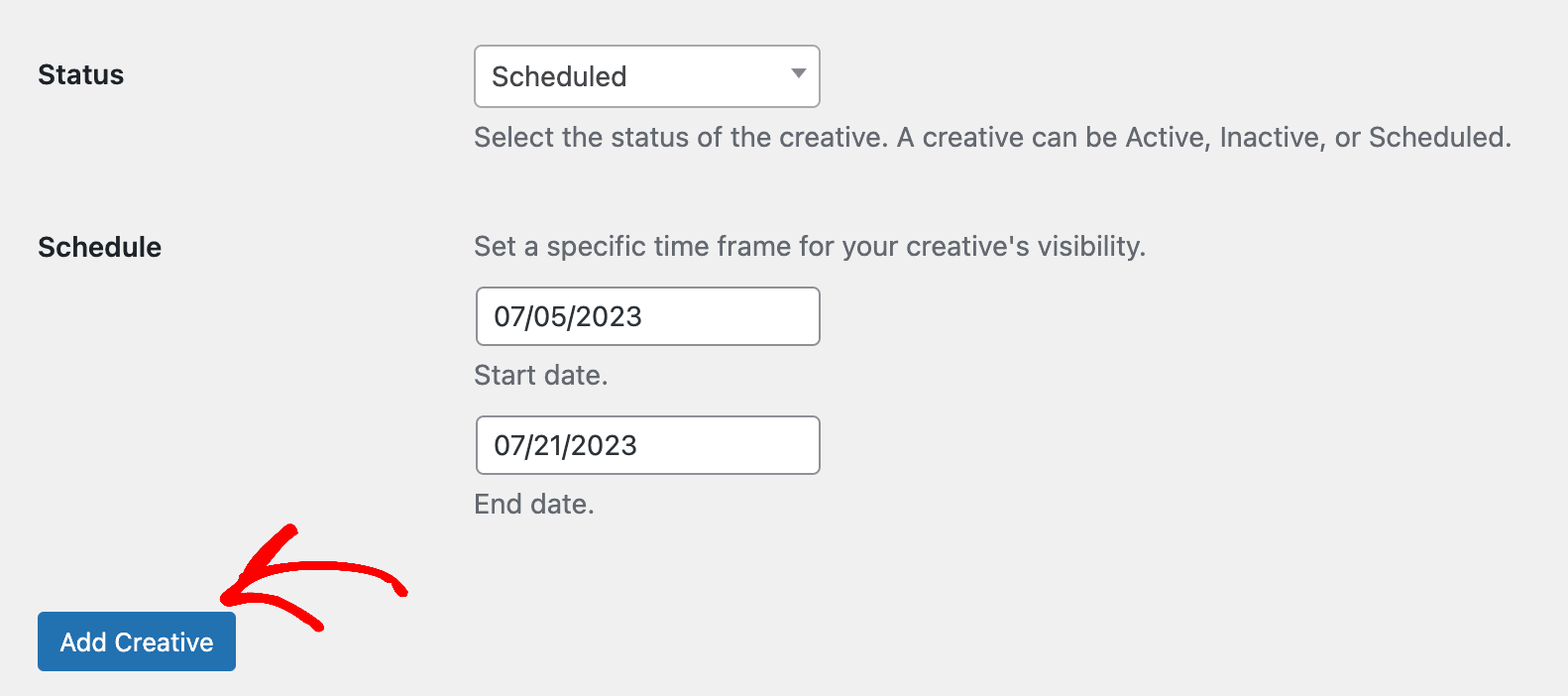 That's it! Your creative is now scheduled and will automatically become available to your affiliates based on your set timeline.
Additional Tools for Managing Your Scheduled Creatives
Quick Access to Scheduled Creatives
You can use the Scheduled filter on the main Creatives screen to quickly see your scheduled creatives.

Visibility of Creative Scheduled
We've added a handy tooltip when you hover over a scheduled creative's status.
It briefly summarizes when the creative will become active, when it will become inactive, and even when the creative's schedule ends.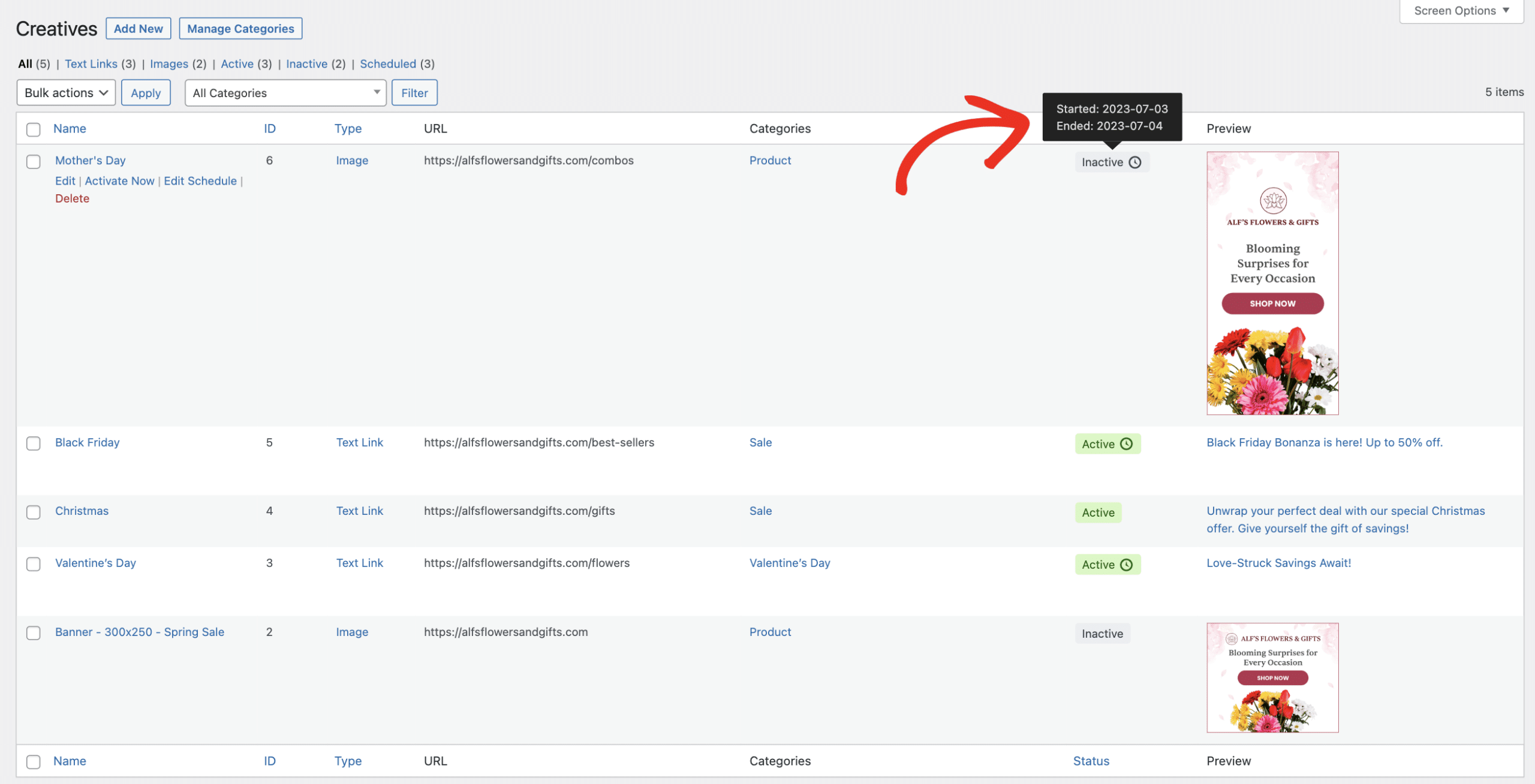 Compatibility with Private Creatives
Scheduled Creatives work well with Private Creatives too.
This feature enables you to schedule creatives for specific affiliates or affiliate groups, providing additional customization to enhance your marketing campaigns.
These tools make managing your affiliate marketing campaigns more efficient and less time-consuming.
You can now focus on what truly matters: growing your business.
Embrace the Future with Scheduled Creatives
Scheduled Creatives revolutionizes how you manage your marketing creatives. Say goodbye to the constraints of manual handling, and welcome the era of proactive planning and optimized scheduling.
It's more than a feature; it's a new way to ensure your marketing campaigns operate at peak performance.
With Scheduled Creatives, you can strategize with precision, streamline your operations, and watch your marketing efforts flourish.
Are you ready to take your affiliate marketing to the next level?
Upgrade to AffiliateWP Pro Today
If you're an existing AffiliateWP customer, upgrading to the Pro license gives you instant access to Scheduled Creatives, plus a host of other advanced features designed to supercharge your affiliate marketing.
Not yet an AffiliateWP user? Purchase a new Pro license today to unlock the full potential of your affiliate marketing.
Don't miss out on optimizing your affiliate marketing strategy.