Connect AffiliateWP to over 700 web services with Zapier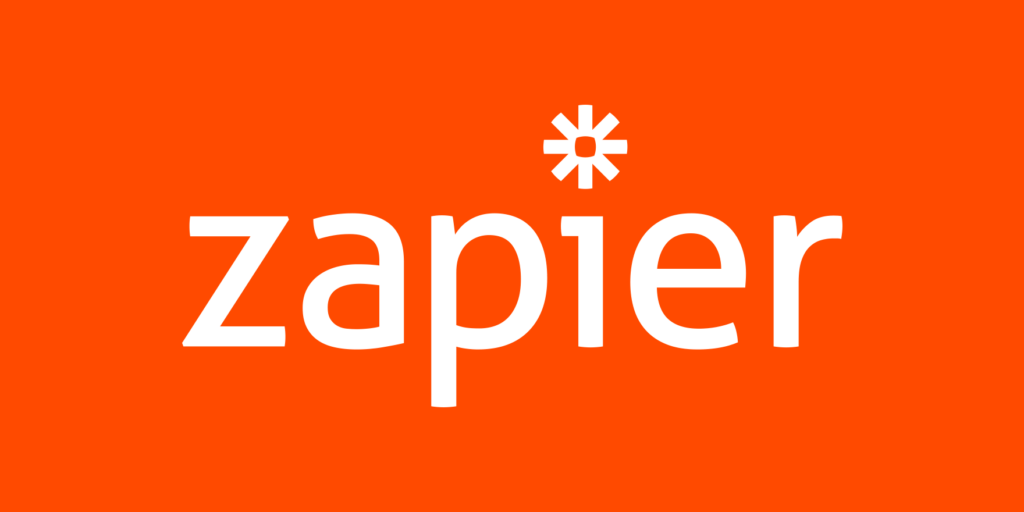 Zapier for AffiliateWP is a new pro add-on, available now to Professional or Ultimate license holders, that integrates your site with Zapier, a service which connects over 700 different apps – to allow for useful integrations between them.
Effectively, if there's an app that's offered in Zapier that you've always wanted to connect with AffiliateWP, now you can.
The release of AffiliateWP 1.9 added a read-only REST API to AffiliateWP – something we're taking full advantage of in this add-on.
The Zapier add-on authenticates with your Zapier account using the API Keys feature available in AffiliateWP 1.9 or later (more information):

Any time AffiliateWP activity occurs on your site, if you've enabled Zapier to do so and your site is authenticated as noted above, this data is made available to third-party services via REST API endpoints.
Using these endpoints to power the Zapier add-on, we're able to open AffiliateWP to the enormous world of the Zapier app ecosystem.
Have a look at the primary features available…
Features
Trigger a Zapier action any time an affiliate, referral, visit, or creative is updated, deleted, or created, as well as any time a payout is created or deleted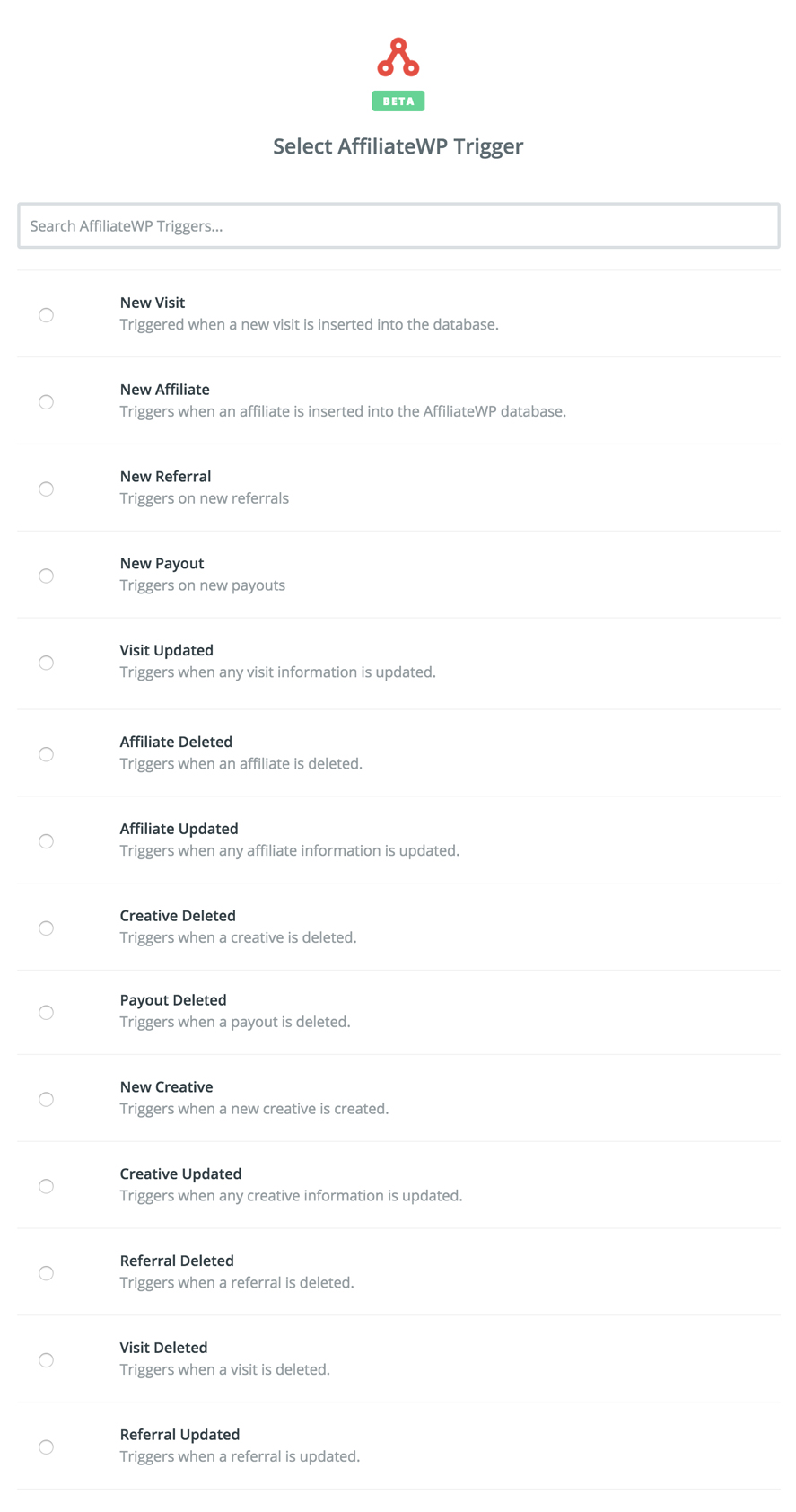 Enable only the notifications you want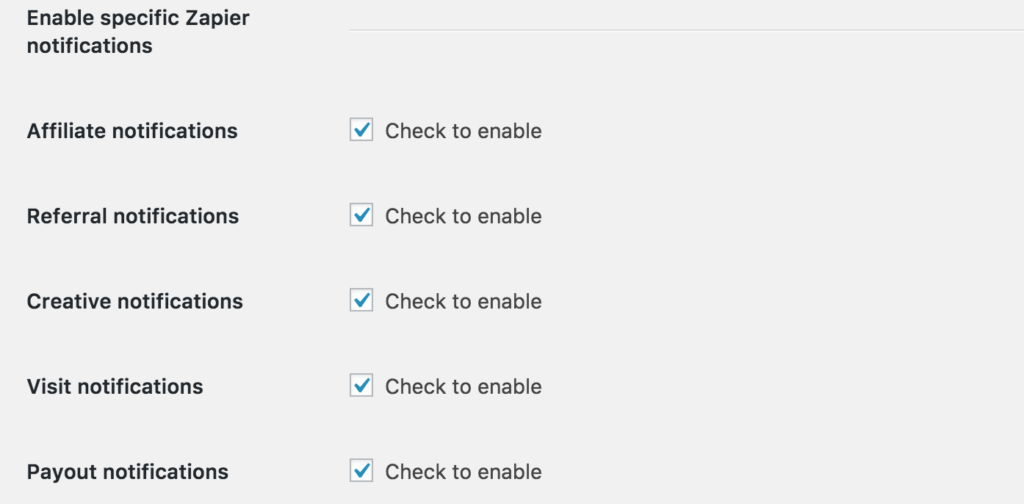 Securely authenticate with your site, using the AffiliateWP REST API
---
For example…
Read on below for several examples of how you can integrate AffiliateWP with the apps available through Zapier.
Add or update a subscriber in MailChimp any time an affiliate registers

Automating marketing and notification efforts can be a real time saver. Adding your AffiliateWP affiliate contact info to MailChimp – and keeping this data in sync – means everything stays up-to-date, with no extra work needed to keep everything current within your MailChimp account.

Add a row of data to a Google Sheets spreadsheet any time a referral is paid

Many individuals and businesses use Google Sheets for not only internal record-keeping, but as data sources for other efforts, such as accountants and other software. Need to send tax data about all affiliates or referrals to your accountant at tax time? No need to export data anymore – all of the pertinent data is added in a new row within a spreadsheet you specify, and will be ready to send when filing taxes.

Upload creatives to a Dropbox account any time one is created on your site

Many use Dropbox to share assets with clients, employees, and friends. Now you can keep your creatives data in sync with any folder being shared in Dropbox, allowing for even faster access to all of your assets – enabling affiliates to get going as quickly as possible.

Adding affiliates as customers to accounting services, (such as Quickbooks, Zoho, and so on) when they register on your site

Taking the prior example a step further, Zapier allows for connections directly to various accounting software. These can be used to add affiliate or referral data as they're added, saving time and effort later on.

Add a new Google contact any time an affiliate registers on your site

Keeping contact information in sync is important – Google contacts offers a way to sync data between any Android device, Gmail, and other Google services. If these are thing you use frequently, leveraging a Google contacts Zapier integration can be a great addition to your Zapier zaps.

Create a Facebook ad automatically whenever a creative is created

Many marketing efforts employ the same campaign assets across different platforms, or re-use them for other concerns. With the Facebook integrations available in Zapier, many options are available, making your AffiliateWP creatives available to your Facebook efforts.

Generate an invoice in Quickbooks for every successful payout.

VAT. It's a pain for many. Use Quickbooks (or other similar programs) to generate tax information for amounts you pay your affiliates.

Add new affiliates to Active Campaign as new contacts

Contacts! ActiveCampaign is another popular marketing platform. With Zapier, you can keep your AffilieteWP affiliates contact list updated in ActiveCampaign.

Add affiliates to an SMS list and text them any time they receive a new referral via any of the SMS-enabled Zapier apps


Frequent, transparent communication is key to affiliates feeling motivated and informed. Many sites offer SMS (text) message notifications as an option, providing an immediate way to provide data and feedback to your affiliates.

Send referral and visit data to Salesforce, along with product info and any other referral data

Have a sales team that needs regular, updated access to referral or affiliate data? Now you can connect AffiliateWP and Salesforce, making this data available.

Log visit, sales, and referral data as it occurs in any of the numerous CRM applications available in Zapier


Expanding on the prior example, some prefer other CRM applications over others. With the options available in Zapier, you can make this information available to the many business tools which offer Zapier apps.

Schedule a video call with every new affiliate via one of the video call apps available


Many AffiliateWP customers prefer to manually approve each affiliate registration. One of the many options made possible with the Zapier pro add-on is to automatically schedule a call with an affiliate the moment they register on your site.

Send a pre-filled document to every new affiliate for a signature request, via document-signing apps such as Hello Sign, Signaturit, or several others


Similar to the above example, you may require a signature, or more detailed written information from your affiliate, such as a signed form.

Play a tune on Spotify any time a referral is made that meets certain criteria.

Hey, why not? Celebrate the achievements of your business, and your affiliates.
---
Ready to get started with the Zapier for AffiliateWP pro add-on? If you've got a Professional or Ultimate AffiliateWP license, it's already available from your account page for download.
If not, you can easily upgrade your Personal or Plus license with just a couple of clicks from your account page.
Don't have a license yet? Check out our pricing!
---
Looking for documentation on this add-on? Select your option below: