AffiliateWP Version 1.0.2 Released
Version 1.0.2 of AffiliateWP was released a few minutes ago. This release fixes a few small bugs, makes a few minor improvements to the affiliate area, and introduces two new features.
We have added an official integration for the popular Jigoshop e-commerce plugin, allowing users of Jigoshop and AffiliateWP to easily track referrals by enabling a single checkbox.
Also in version 1.0.2, we have added a new tab to the Reports page that shows visits overtime, both those with successful conversions and not: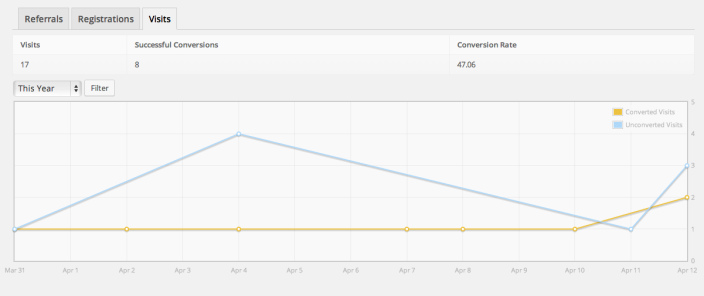 Not yet using AffiliateWP, the best and easiest affiliate marketing platform for WordPress? Check out our pricing page for purchasing info.
Complete Changelog for 1.0.2:
New: added a new Visits tab to the reports section to view visits overtime
New: added an integration for Jigoshop
Fix: corrected several textdomains
Fix: poor formatting for the visits table when extra long URLs are shown
Fix: conversion rate for affiliates was incorrectly calculated
Fix: last letter of the From Name for the email notifications was cut off
Tweak: improved the Affiliates Pro migration script
Tweak: improved the position of the checkboxes in the affiliate area