Affiliate marketing will grow your business
Rank higher. Boost traffic. Earn more money.
Higher visibility
Affiliates constantly promote your products and services, drastically improving your website's SEO.
More traffic
Higher visibility means more people will visit your website, and see your products and services.
Increased sales
More traffic to your website means an increased likelihood of converting them into real customers.
Elegant affiliate tracking for WordPress
Finally, an affiliate marketing solution that feels like WordPress. AffiliateWP provides advanced affiliate and referral tracking, integrated seamlessly with your WordPress site.
Drag
Easily manage your team of affiliates
Effortless affiliate management. View top-earning affiliates, edit affiliate accounts, set per-affiliate referral rates and more.
Drag
Effortlessly pay your affiliates
Paying affiliates directly to their bank accounts is simple, affordable, and supported in more than 30 countries. Learn more about the easiest way to pay your affiliates.
Drag
Set up your new affiliate system in just minutes
Get up and running in minutes. AffiliateWP integrates with your favorite WordPress eCommerce, form and membership plugins with one click.
Drag
A place for your affiliates to call home
An affiliate dashboard that blends seamlessly with your WordPress theme. Affiliates can view earnings, see their performance statistics, and access creatives.
Drag
View real-time reports and graphs
Get an overview of your affiliates' performance in real-time with detailed referral data and graphs.
Drag
Packed full of features
Yes, all of these features are included in AffiliateWP!
Easy setup
Your affiliate program will be up and running in minutes. Simply install and activate and you're ready to go!
Accurate affiliate tracking
AffiliateWP tracks affiliate referrals reliably, even on servers with aggressive caching.
Integrated Payouts Service
Easily pay your affiliates directly to their bank accounts or debit cards in just a few clicks with our Payouts Service.
Real-time reporting
Track affiliate-referred visits, referrals, earnings and affiliate registrations in real time, without delay.
Complete integration
AffiliateWP integrates fully with popular WordPress eCommerce and membership plugins
Unlimited affiliates
Have an unlimited number of affiliates actively promoting your website, products, and services.
Unlimited creatives
Give your affiliates unlimited visual resources or text links for faster, more effective promotion of your site.
Easy affiliate management
See your top earning affiliates, view affiliate reports, edit individual affiliate accounts, and moderate affiliate registrations.
Automatic affiliate creation
Enable automatic affiliate account creation for all users who register a new WordPress user account on your site.
Manual affiliate approval
Affiliate registrations can be moderated by admins, automatically accepted, or accounts can be manually created.
Affiliate Area
A dashboard for your affiliates to track their performance, view earnings, retrieve their referral URL, find creatives, and more!
Referral link generator
Affiliates can generate their own referral links from the Affiliate Area with the built-in referral link generator.
Referral rate types
Choose between flat rate and percentage referral rate types on a global, per-affiliate, and per-product basis.
Easy affiliate registration
AffiliateWP ships with a default affiliate registration form so users can register as affiliates instantly.
Affiliate URLs
Choose pretty URLs or non-pretty. Affiliates can use their unique Affiliate ID or WordPress username in URLs.
Set cookie expiration
Choose how many days the referral tracking cookie should be valid for.
Simple shortcodes
Use WordPress-friendly shortcodes for the affiliate login form, the registration form, URLs, and more.
Customizable emails
Emails for admin notifications, pending affiliate applications, affiliate application approval and rejection, and new referral notifications.
Export data to CSV
Export affiliate data and referral data to a CSV file for forecasting, bookkeeping, and accounting purposes.
Payout Logs
Easily see a detailed log of every payout sent to affiliates from the Payouts screen.
Developer-friendly
AffiliateWP is extremely extensible with plenty of hooks and templates to add custom features and functionality.
REST API
AffiliateWP includes a full, read-only REST API and an extended API with CRUD operations available as a pro add-on.
WP-CLI integration
Use our full suite of WP-CLI commands to create, update, delete, and view all data within AffiliateWP.
Performance-ready
Thoroughly tested and built with speed in mind, AffiliateWP performs beautifully on all sites; from large to small and in-between.
Fully internationalized
AffiliateWP is ready to be translated into your language. As always, translations are welcome!
Made for WordPress
AffiliateWP looks and feels like WordPress; seamlessly integrated. It lives on your website (not someone else's) so you have full control.
World-class support
If you require assistance, our support is considered the best in the industry. We're here to help!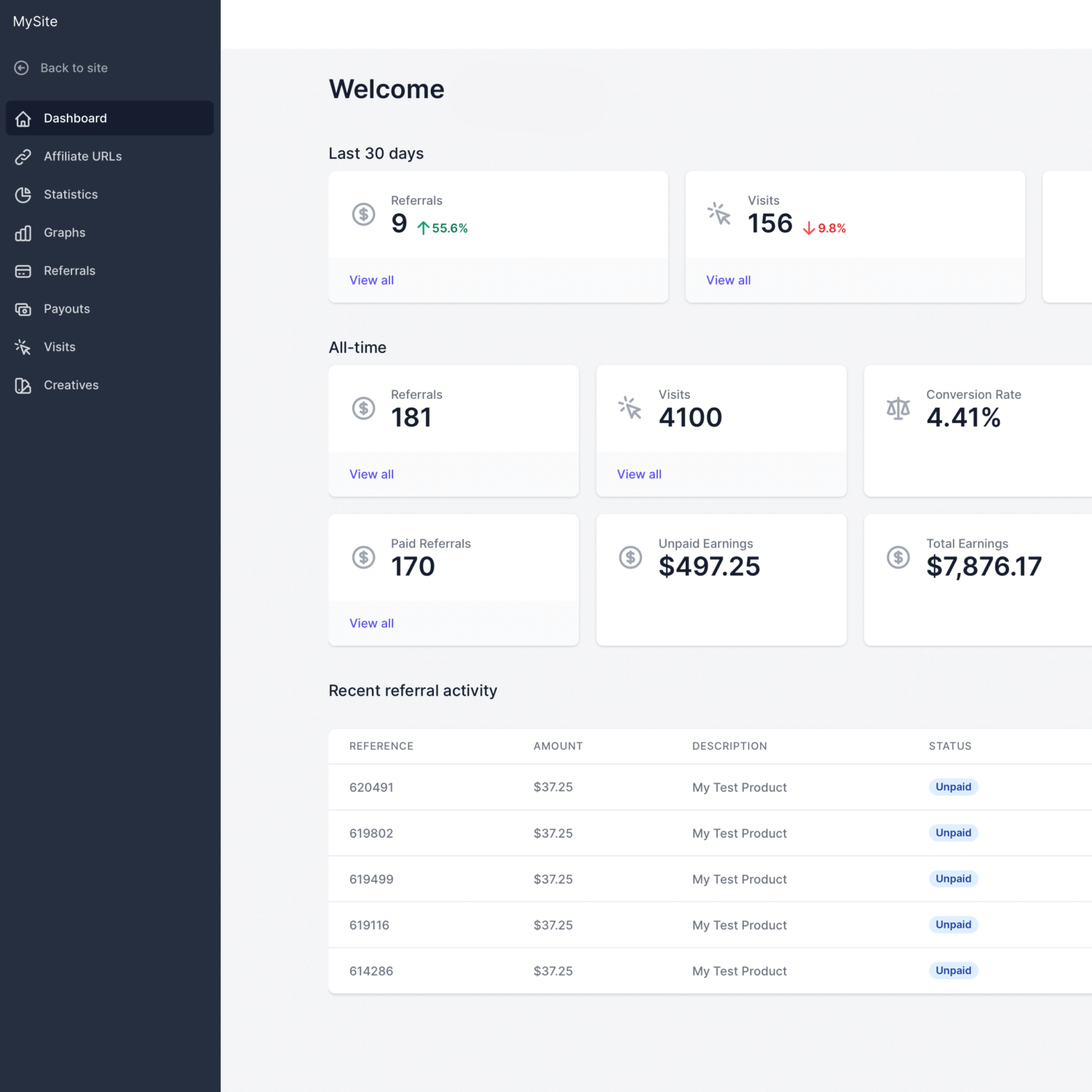 New Pro Add-on!
Affiliate Portal
Recruit and cultivate affiliates with an online experience they will love.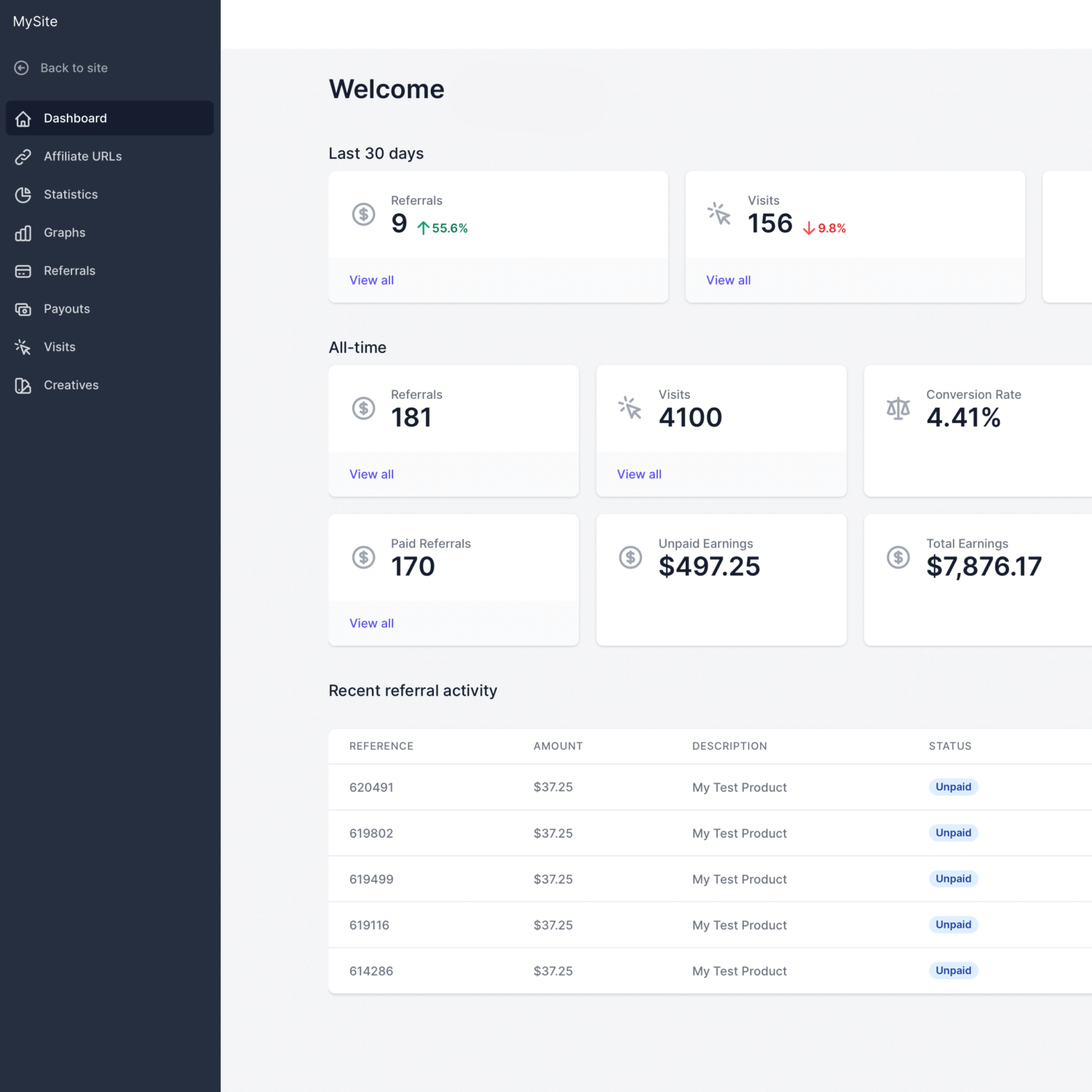 The Affiliate Portal is a new alternative to the Affiliate Area. It offers all the same functionality as the Affiliate Area with a beautiful new interface.
Without any customization, it looks great on mobile devices and works perfectly with any WordPress theme.
The Affiliate Portal is a pro add-on which requires a Professional license.
Learn more
Beautifully integrated with your favorite WordPress plugins
AffiliateWP integrates seamlessly with 22 popular eCommerce, membership, form, and invoice WordPress plugins.
Some of the awesome companies that use AffiliateWP