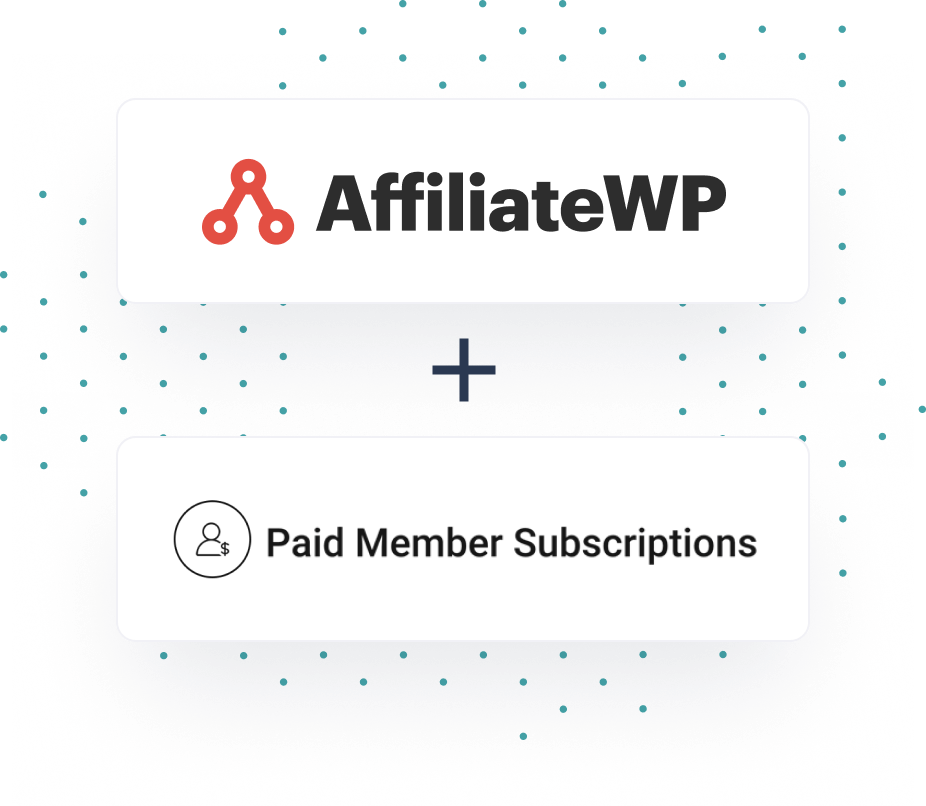 Paid Member Subscriptions Integration
Effortlessly add affiliate tracking capabilities to your Paid Member Subscriptions program with AffiliateWP. AffiliateWP integrates with Paid Member Subscriptions in just a few clicks to open up a new revenue stream for your business.
#1 Affiliate Plugin for Paid Member Subscriptions
AffiliateWP adds affiliate tracking to your Paid Member Subscriptions program in just a few minutes. With powerful affiliate tools, it's the fastest way to grow your subscription sales.
Easy Set Up: Set up your affiliate program for Paid Member Subscriptions in just a few clicks with our onboarding wizard.
Affiliate Coupon Tracking: Create coupons for your affiliates to promote your subscriptions.
Reject Referrals on Refund: Easily reject referrals if a purchase is refunded.
Supercharge Your Affiliate Program With Add-ons
AffiliateWP comes with a bunch of free as well as paid addons to enhance your Paid Membership Subscriptions affiliate program.
Affiliate Portal: Provides an optimized experience for affiliates via a custom dashboard user interface.
Tiered Affiliate Rates: Incentivize affiliates by increasing commission as they make more sales.
Direct Link Tracking: Allow affiliates to link directly from their site to yours without the need for an affiliate link.
Start Getting More Sales Today with AffiliateWP
Launch your affiliate program today and unlock a new revenue channel to grow your business faster.
Explore Our Powerful Affiliate Marketing Features
AffiliateWP is packed full of features to grow your business more quickly.
Grow Your Brand and Boost Subscription Sales
AffiliateWP is the most powerful affiliate plugin for Paid Membership Subscriptions. Set up your affiliate program in just a few minutes to start tracking referrals.
Get More Out of Your Marketing Budget
Build an army of affiliate marketers who work on commission. You only pay when they make a referral.
Access Professional Marketers
Gain access to highly skilled marketers with the knowledge and tools to grow your sales.
Focus on the Tasks that Will Grow your Business
Let affiliates take some of the responsibility for implementing complex marketing strategies.
Immediately Grow Your Brand Reach
Affiliates can introduce your brand to large, targeted audiences almost overnight (in a cost-effective way).
Over 80% of brands run affiliate programs.
Affiliate marketing is the top customer acquisition channel for 40% of US merchants.
More than 85% of marketers expect affiliate marketing revenue to grow.