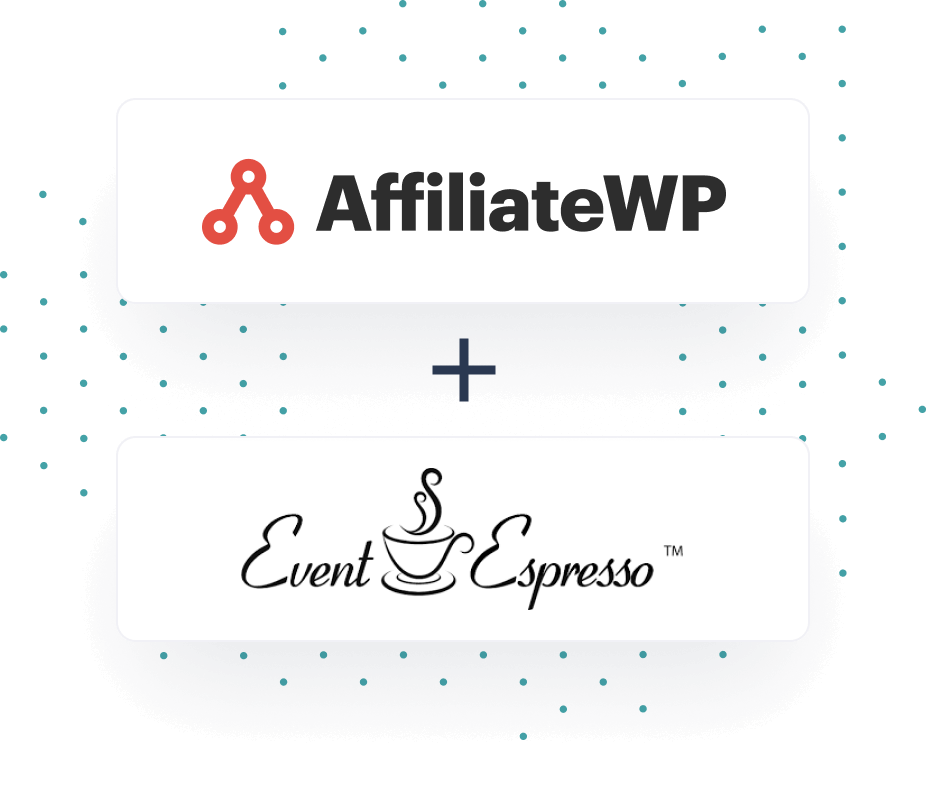 Event Espresso
Supercharge your event bookings with the AffiliateWP + Event Espresso integration. Add an affiliate program to your website in minutes, sign up top affiliates, and grow your sales with AffiliateWP and Event Espresso.
The #1 Affiliate Plugin for Event Espresso
AffiliateWP is the quickest and most powerful way to track affiliate links with Event Espresso. Here are some of the features that transform your Event Espresso website into an affiliate referral machine.
Easy Setup Wizard: Set up your affiliate program in under 10 minutes with AffiliateWP's simple setup wizard. No coding or technical skills required!
Real-Time Reporting: Track affiliate performance in fine detail with real-time reporting directly from your WordPress dashboard.
1-Click Payouts: Use the integrated payouts service to pay affiliates in just a click.
Bring the Power of Affiliates to Your Event Marketing
Having an affiliate program is like having an army of salespeople working to sell your events. AffiliateWP gives you the tools to manage top affiliates and empowers them to help grow your business.
Automate Your Affiliate Management: AffiliateWP gives you automation tools so you spend less time managing your affiliate program and more time taking care of other business.
Unleash Innovative Marketing Tools: Don't just track links, grow your business with affiliate leaderboards, personalized affiliate landing pages, and much more.
Unlimited Affiliates and No Fees: There are no caps on the number of affiliates you can have or sales you can make, and there are no fees on transactions.
Next Steps to Add Affiliate Tracking to Event Espresso
To connect Event Espresso to AffiliateWP simply follow these steps. The integration is a third-party product, so once you've installed AffiliateWP, just head to this page for instructions.
Start Getting More Sales Today with AffiliateWP
Launch your affiliate program today and unlock a new revenue channel to grow your business faster.
Explore Our Powerful Affiliate Marketing Features
AffiliateWP is packed full of features to grow your business more quickly.
Grow Your Brand and Boost Conversions
AffiliateWP is the most powerful WordPress affiliate plugin. Set up your affiliate program in just a few minutes to start tracking referrals.
Get More Out of Your Marketing Budget
Build an army of affiliate marketers who work on commission. You only pay when they make a referral.
Access Professional Marketers
Gain access to highly skilled marketers with the knowledge and tools to grow your sales.
Focus on the Tasks that Will Grow your Business
Let affiliates take some of the responsibility for implementing complex marketing strategies.
Immediately Grow Your Brand Reach
Affiliates can introduce your brand to large, targeted audiences almost overnight (in a cost-effective way).
Over 80% of brands run affiliate programs.
Affiliate marketing is the top customer acquisition channel for 40% of US merchants.
More than 85% of marketers expect affiliate marketing revenue to grow.