Notice: There is no legacy documentation available for this item, so you are seeing the current documentation.
How to Use Tutor LMS with AffiliateWP
AffiliateWP can allow you to reward referrals to your affiliates for course registrations using Tutor LMS through the use of Easy Digital Downloads or WooCommerce.
In order to use AffiliateWP with Tutor LMS, you must first be using either Easy Digital Downloads or WooCommerce as your eCommerce platform. Both of these integrate with AffiliateWP and you can select them by navigating to AffiliateWP » Settings » Integrations.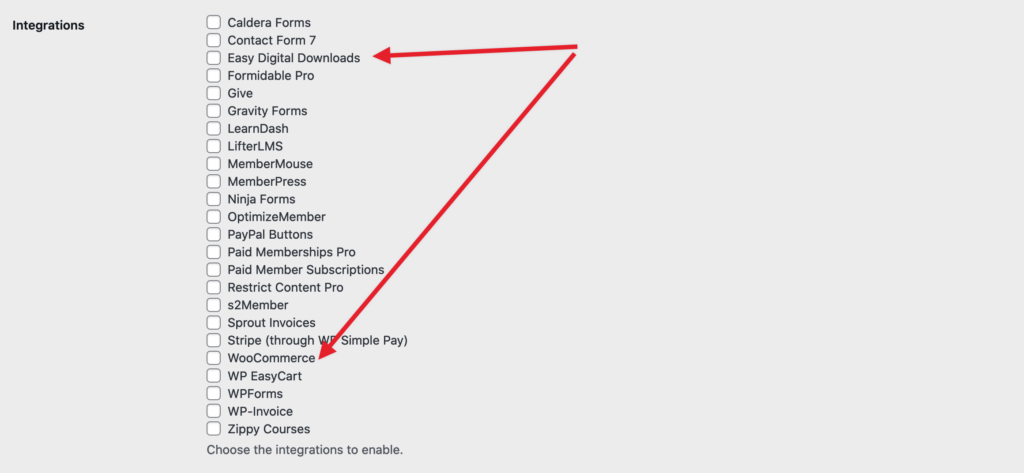 You can read more on setting up those integrations here:
Using Easy Digital Downloads with AffiliateWP
Using WooCommerce with AffiliateWP
Once you have either integration in place, then you will then follow the instructions linked below to use either Easy Digital Downloads or WooCommerce with Tutor LMS.
Using Tutor LMS with Easy Digital Downloads
Using Tutor LMS with WooCommerce
Since Tutor LMS connects with Easy Digital Downloads and/or WooCommerce and AffiliateWP has direct integrations with both, then any courses that are sold using those platforms will generate a referral through AffiliateWP.