Notice: There is no legacy documentation available for this item, so you are seeing the current documentation.
Yes! You can easily upgrade your license key at anytime.
Are you ready to upgrade your existing license key to receive additional features and functionality? In this article, we'll talk about which license keys can be upgraded and show you how to upgrade your existing AffiliateWP license key.
An active Personal license key can be upgraded to Plus or Professional. An active Plus license keys can be upgraded to Professional. Upgrades can be completed at anytime throughout the year. Expired license keys can not be upgraded and must first be renewed.
You can easily upgrade your license whenever you like from your account page. The value of your current, active AffiliateWP license key will be subtracted from the cost of the license you are upgrading to.
Once you are logged into your AffiliateWP account click View Upgrades as shown below: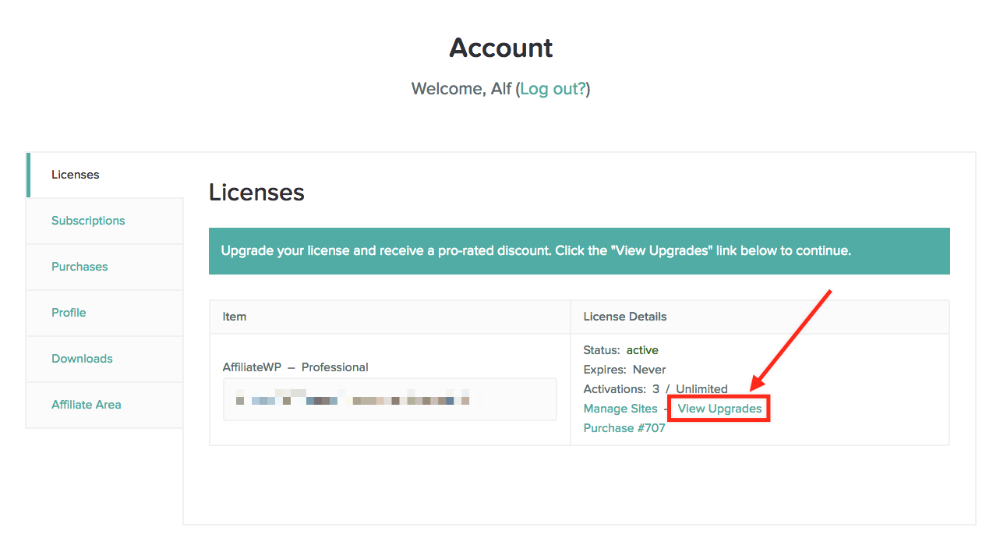 If you do not have an account, you can go to https://affiliatewp.com/account/register to create one. As long as you register with the same email that you purchased with, it will be automatically connected to your purchase.
Do I need to reinstall AffiliateWP when I upgrade?
When you upgrade your license, you don't need to take any further action such as uninstalling or reinstalling the plugin. The AffiliateWP plugin is exactly the same between all license levels – the only difference being the number of sites you can install AffiliateWP on, and access to the pro add-ons from your Account page (pro add-ons will only be accessible if you upgrade to a Professional license).
Does upgrading my license key also renew it?
No. Upgrading your license key grants you access to additional features, such as additional site activation allowances or the Professional add-ons, but it does not also renew your license for another year. Your license key expiration/ renewal date will remain the same.
I don not see my license key when I log into my AffiliateWP account.
This may happen if you have used multiple email addresses when purchasing and/ or renewing your license key. Your license key will always be linked to the account that was created when the original purchase was completed. Please reach out to our friendly support team if you do not see your license key when logged into your account: https://affiliatewp.com/support/